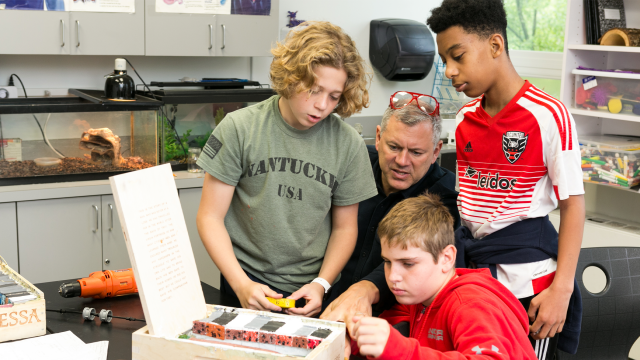 Lab School Admissions
The Lab School of Washington could be the difference your student needs to thrive academically.
Imagine a school where teachers understand and appreciate your student, where learning differences aren't treated as disabilities. A school that focuses on achievement, not just accommodation. Since our founding in 1967, that's been the focus and mission of The Lab School of Washington.
We offer an innovative, rich, arts-centered education for elementary, intermediate, junior high, and high school students who:
Are affected by a language- or attention-based learning difference
Are curious, empathetic, and bursting with potential
Our admissions team can help you discover if Lab is the academic and social environment you've been looking for. Register for an info session today.
Experience Lab, First-Hand
When you visit our campus, you'll see our mission in action as you peek into each classroom. You'll see students designing, creating, interacting, performing, and learning. You might even see historical and mythical figures walking down the hall.
Register for an info session today to learn more about our academic, extracurricular, athletic, and arts programs.