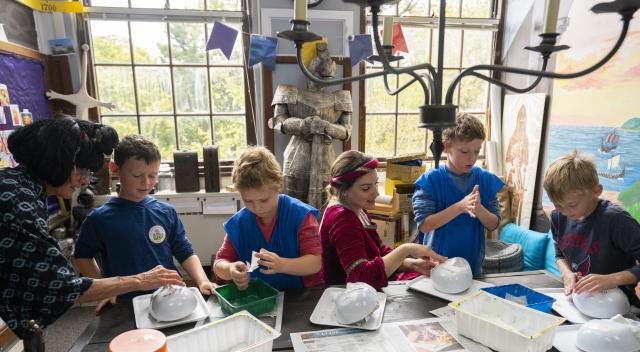 Employment and Internships
It is no surprise that many members of Lab's faculty and staff have stayed for 15-25-35 or more years. One staff member said: "Everyone wants to stay at Lab. Who wouldn't embrace the opportunity to be flexible and creative every day? Frankly, it feels like an honor to be a part of Lab, to play a role in our collective mission and process of helping students with learning differences discover their best selves and succeed."
The Lab School of Washington is situated in the Palisades neighborhood of Washington, DC. Located minutes from historic Georgetown, the Potomac waterfront, and a short drive to the museums, monuments, and other local historic sites. Lab spans two campuses — just a half-mile apart — and offers its faculty and staff the opportunity to work in a creative, collegial, and collaborative atmosphere.
"It's easy to feel excited to get up each morning and come to Lab. Sure, we work incredibly hard, but there's nothing more rewarding than witnessing a child find success in a skill area that used to be so daunting for them like a 'non-reader' turning into a bookworm or a student who struggled to express herself talk enthusiastically about a family vacation or favorite movie."
— Speech and Language Pathologist and Intermediate Reading Specialist
The Lab School of Washington is an inclusive and welcoming school that celebrates diversity, including race, color, religion, national and ethnic origin, gender identity, gender expression, sexual orientation, disability, age or any other status protected by applicable law. We welcome candidates representing the diversity of today's global world.
Job Openings
For the 2020-2021 school year at The Lab School of Washington: a dynamic arts-infused program for students with learning differences. Full-time position.
Requirements include a Master's Degree in Speech-Language Pathology, enthusiasm for working with students with learning differences, excellent interpersonal, written language and communication skills. Candidates should be interested in all areas of school-based speech-language pathology, and specifically those related to therapeutic intervention for reading, written expression, and executive function skills.  Join a dynamic, warm, and collaborative team of colleagues. Lab encourages candidates from diverse backgrounds.
Please submit cover letter, resume, employment application (found on the school's homepage under "Employment and Internships") and three references to Melissa Wood at melissa.wood@labschool.org.
Beginning late August 2020
The Lab School of Washington is seeking a full-time special education classroom teacher in the Intermediate program for students in the 5th grade with language-based learning differences. A Master's Degree in Special Education preferred. Must have teaching certification or be willing to take the courses required towards certification in the District of Columbia. The ideal candidate possesses 3-5 years of experience teaching a similar population of students, be knowledgeable of literacy, mathematics, and social learning that addresses the needs of our students with learning differences. Candidate must have enthusiasm, creativity, imagination and an exceptional ability to collaboratively plan and implement lessons with a teaching team in an arts-infused environment.
 
The Lab School encourages candidates from diverse backgrounds. Please email employment application, cover letter, resume, three references, and to: intermediaterecruiting@labschool.org.