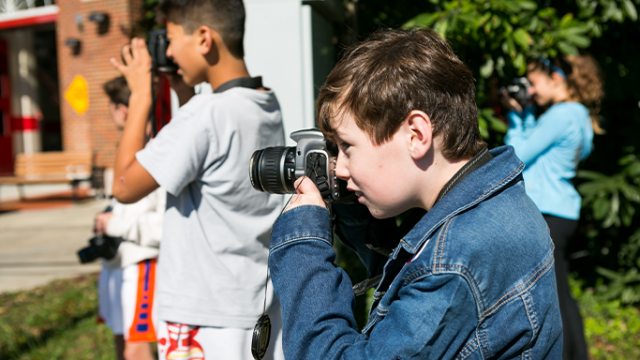 Tuition and Fees
We know. Tuition at The Lab School is expensive. Our intensive, research-based curriculum is driven by a staff with a high level of expertise. And finding the right school where your child can feel happy, confident, and empowered as a successful learner is an investment in his or her present — and future.
"At The Lab School, you are no longer that kid — the one who struggles to read, or who has issues with spelling. In many ways, you're like everyone else. You can succeed at Lab. Believing in yourself — that you have the ability to go beyond what others expect of you — is the most important factor of success. Lab helped me do this, and it has changed my life."
— Lab School Senior
For most students, attending The Lab School of Washington is a special opportunity that allows them to learn in an environment customized to their needs, grow academically, socially, and emotionally, and experience success — often for the first time. Students who attend Lab say that within even a day or two they start to see a positive change in their attitude towards school.
We realize that sending your child to Lab is a significant investment. We're here to help.
Non-refundable Application Fee: $100
Non-refundable Enrollment Fee (to be applied toward tuition): $2,500
| | |
| --- | --- |
| Elementary | $50,650 |
| Intermediate | $50,650 |
| Junior High | $51,250 |
| High School | $52,500 |
The fees for individual and small group clinical services are charged over and above tuition. For information, please contact these departments directly.
Athletics and Activities

After School Programs

LABus - morning and afternoon transportation to and from Lab
The Lab School of Washington provides special-education services and therefore, payments to The Lab School of Washington may be considered deductible medical-care expenses under the Internal Revenue Code. The regulations under Section 213 of the Internal Revenue Code provide that:
"While ordinary education is not medical care, the cost of medical care includes the cost of attending a special school for a handicapped individual, if his or her condition is such that the resources of the institution for alleviating such handicap are a principal reason for his or her presence there."
Whether expenses of The Lab School of Washington will be deductible in a particular case, however, will depend upon the facts and circumstances of each individual student's situation. There are also percentage limitations applicable to otherwise deductible medical expenses, depending on the parents' income. Before taking a tax deduction for expenses relating to the special education of a student, parents should confer with their tax lawyer or accountant about the rulings and regulations under Section 213 of the Internal Revenue Code and other applicable laws.
You should also be aware that under the Individuals with Disabilities Education Improvement Act there is a process in every public school jurisdiction for determining a child's eligibility for special education services. If it is determined that an appropriate education cannot be provided within the public school system, a child may be entitled to placement by that system.
The Lab School recognizes the effort and financial commitment involved in enrolling a child at Lab. Lab's financial aid budget continues to grow.
Account owners of 529 College Savings Plans can now make withdrawals to pay for qualified K-12 tuition expenses up to $10,000 per year per student.
For details about all our payment options, click here.