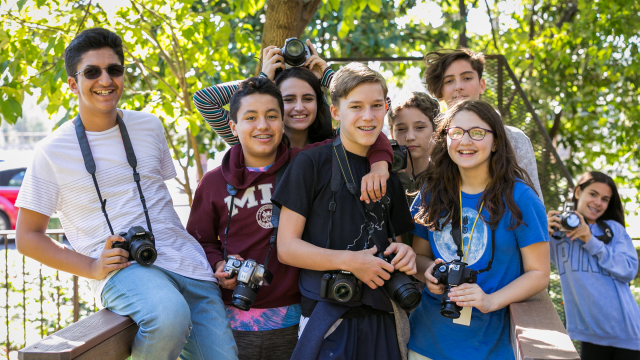 Community and Resources
Everyone benefits from a greater awareness and deeper understanding of learning differences. Lab is committed to removing the stigma through continual community outreach.  
Preparing our students for personal and professional success includes supporting our families, educating the public, and review the latest scientific research and literature for application in the classroom. Here's a look at our offerings as well as a list of further resources. 
Lecture Series: Programming for Parents and the Public 
Lab offers educational programs for parents, families, educational professionals, therapists, and community members. Our monthly lecture series offers enlightening and informative talks on timely and relevant topics such as sleep health, school-related anxiety, ADHD research, executive functioning challenges, neurodiversity, and the dangers of vaping. 
PALS: Parents Association of The Lab School 
Just as your students feel they've found a place to fit in, Lab families also embark on their own shared experience. We encourage Lab parents to get to know each other and become more involved with their child's education through PALS, which all year long spearheads community events for staff, students, and families in and beyond school. 
Services for the Community 
Lab offers expert clinical services and evaluations to students with learning differences throughout the D.C. area. Our on-site The Reservoir Group also provides the following comprehensive services to our students and the general public:
In-person and Tele-therapy
Psycho-educational Evaluations
Occupational Therapy Evaluations
Speech, Language & Literacy Evaluations
Admissions Testing
Consultations
Diversity, Equity, and Inclusion Resources
Check out books, articles, films, and other types of media that Lab Community members have been using and talking about as well as books for all ages kindly suggested by Politics and Prose bookstore. There are many more out there, but this is a starting point.
Scientific Review Group
Formed in 2012, the Scientific Review Group at The Lab School started by identifying and seeking answers to important scientific questions that impact how our students learn, and how we teach. These questions range from the nature of reading to how sleep impacts learning and memory to investigating the efficacy of the latest educational approaches and interventions.
Learning Differences Resources 
We've assembled some resources below that students and families might find helpful, from online communities to national research centers: