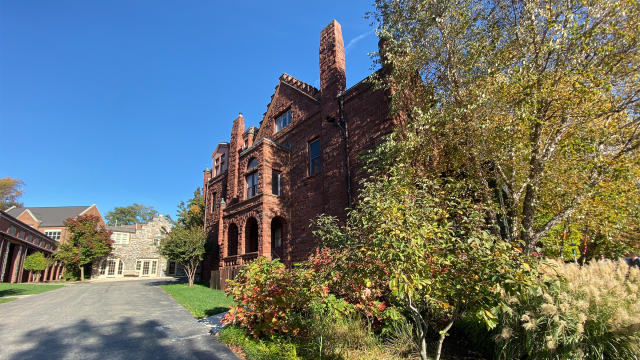 Leadership at Lab
The importance of leadership cannot be underestimated. Excellent leadership has everything to do with the outcomes for a school and its students. At Lab, it is the leader of the school along with her devoted team of educators, administrators, and clinical professionals who cultivate a school environment that allows students and teachers to flourish.
The Lab School of Washington has long benefited from strong, stable leadership. There have been just three heads of school since Lab's founding in 1967 — all three thoughtful, forward-thinking educators, dedicated to the success of their students and whole community.
Meet our team: 
Head of School
Kim Wargo
In July 2020, Kim Wargo became Lab's third head of The Lab School. She comes to the position with more than 20 years of experience in education, beginning her career as a teacher, then serving as associate head and head of school for four other schools across the country.
 
Click here to view Contemplations from Kim, a monthly column from our Head of School
Kim Wargo serves as head of School of The Lab School of Washington. Prior to her headship at Lab, Kim has been head of three independent schools around the country, and has also had other senior leadership roles. Kim served as head of School at the Katherine Delmar Burke School in San Francisco, as Eugene McDermott Headmistress at The Hockaday School in Dallas, and as head of school at GEMS World Academy in Chicago. Kim has also served as associate head of school at the Isidore Newman School in New Orleans and as head of the Upper School at the Louise S. McGehee School in New Orleans. She began her career in education at the Hill School of Ft. Worth, a school for students with learning differences, where she taught 2nd through 8th grade students and was named Teacher of the Year. Kim has also served as director of College Counseling, History Department chair, and Middle and Upper School History and Government teacher.
At Burke's, Kim focused on improving professional development for faculty and staff, building parent-school partnership through parent education and conversation, and examining all programs with a focus on mission-alignment. At Hockaday, Kim led the school through its Centennial celebrations and a successful Centennial Capital Campaign, which included building a state-of-the-art integrated Science and Arts building, while also developing a new strategic plan and guiding the school's ISAS self-study. At GEMS, Kim focused on building school culture and enrollment, critical components of developing a successful new school. At Newman, Kim led a board-level task force to develop principles for civil discourse and a new mission statement highlighting the school's commitment to inclusion, while also leading the school through a successful self-study. At McGehee, Kim was instrumental in leading the Upper School through the challenges associated with Hurricane Katrina. She also focused on growing the enrollment of the Upper School and fostering excellence in the academic, athletic, and extracurricular programs.
Kim currently serves on the board of The Heads Network. She has previously served on the boards of ERB, the Independent Schools Association of the Southwest, the Southwest Preparatory Athletic Conference, and Aim High in San Francisco.
Kim holds a bachelor's degree in Journalism from Louisiana State University, where she graduated summa cum laude with minors in History and English. She earned a master's degree in History and is ABD from Tulane University.
Kim is married to Mark Cortez, a career math teacher in independent schools. Kim and Mark have one daughter, Ida Cortez, a graduate of Bowdoin College in Brunswick, Maine who is now a teacher in an independent school. Kim enjoys traveling, entertaining, reading, going on DC city hikes, cheering on her beloved Saints, and spending time with friends and family.