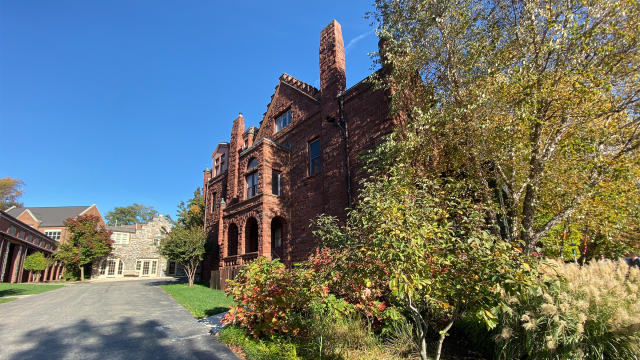 Leadership at Lab
The importance of leadership cannot be underestimated. Excellent leadership has everything to do with the outcomes for a school and its students. At Lab, it is the leader of the school along with her devoted team of educators, administrators, and clinical professionals who cultivate a school environment that allows students and teachers to flourish.
During its 53 years of existence, The Lab School has had only two heads of school — the indomitably charismatic founder Sally L. Smith who started the school to fill a need for her son and other struggling students like him who simply learned differently, and the incredibly thoughtful and intentional Katherine Schantz who has been dedicated to working with students with learning differences for almost 40 years. Starting in July 2020, Kim Wargo takes on leadership of the school.
Meet our team: 
Head of School
Katherine Schantz
Master of Education, Harvard University
Head of School at Lab since 2009, Katherine Schantz has almost 40 years of experience in the field of learning differences and ADHD. She has taught at all educational levels — from public schools, to specialized independent schools for students who learn differently, to the university level.
Learn More About Katherine Schantz:
Katherine Schantz, EdM, CAS has served as the head of school at The Lab School of Washington since 2009. Ms. Schantz has more than 35 years of experience in the field of learning differences and ADHD.
Since coming to Lab, Ms. Schantz has worked diligently and gracefully to fulfill many goals to continue to grow The Lab School as the best of the best in schools for students with learning differences. For the campus, she spearheaded the new 276-seat Shaun Miskell Theater, part of an expanding arts complex that includes other hubs of learning like a ceramics studio, a new music room, and a digital filmmaking space. She led the conception and construction of a state-of-the-art high school building, which opened in the spring of 2016, and was designed to enhance the learning experience. These inspired campus additions became possible because of her commitment to what turned out to be the most successful capital campaign in the history of the school. In four years, the campaign raised $12.3 million, $2.3 million above the original goal.
Within the curriculum and social fabric of the school, Ms. Schantz launched a new Literacy Initiative, formalizing and improving upon Lab's already superior program, and based on her deep and ever-burgeoning understanding of brain research, she has continued to underscore the importance of arts-centered learning across all academic subjects and its effectiveness for building essential habits of the mind for lifelong learning. In addition, she has championed the development of a school-wide plan to address identified needs related to creating a culture of greater diversity, equity, and inclusion for members of Lab's community; expanded the Athletics program; and introduced a robust global travel program for the High School as well as more opportunities for experiential learning for all students.
As for the greater community, Ms. Schantz has continued to develop and increase communications on the philosophy, mission, vision, and institutional achievements to all constituencies in our community and to a broader base of educational policymakers and practitioners, continuing the role of The Lab School as a thought leader in the field of learning differences education.