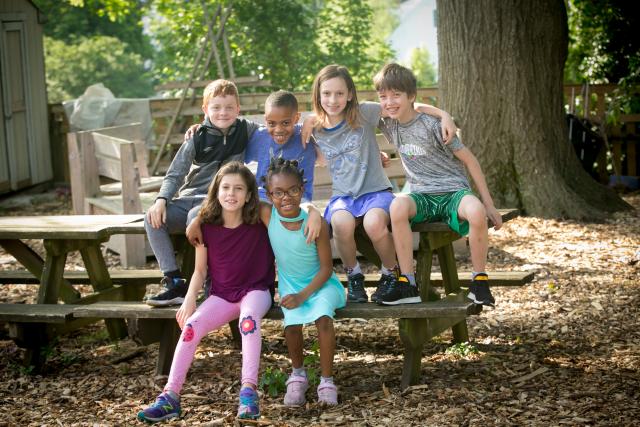 Our Students
Curious. Intelligent. Empathetic. Bursting with potential. This is Lab.
Within our historic buildings and state-of-the-art facilities, you'll find learners of all ages, cultures, backgrounds, beliefs, families, and economic status. Our student body is diverse and yet they all share one thing...
Students at Lab learn differently. 
Along with their cognitive strengths, our students have been diagnosed with a language-based and/or attention-based learning difference.
Elementary and Intermediate
Our Elementary and Intermediate students move through the curriculum at their own pace, developing the strengths, skills, and confidence necessary for the academic rigors that lie ahead. Our younger students focus on developing the basics of their executive functioning skills and learning through hands-on projects and small-group collaboration, in particular through our innovative social studies program (Academic Clubs) where students bring the past into the present through project-based immersion into an historic time period.
Junior High
In Junior High, Lab students focus on building self-awareness and self-advocacy and taking ownership of their learning by identifying how they learn best and utilizing the resources surrounding them. As they prepare for the academic rigors of High School, Junior High students have access to structured advising. In the CREW program, students dive into interactive lessons and discussions on topics such as leadership, courage, integrity, and justice. Our junior high curriculum emphasizes STEAM education — science, technology, engineering, arts, and math. Our pioneering arts-centered curriculum taught across all academic subjects helps students learn to solve problems and attack difficult questions.
High School
Lab High School students learn on a deeper, more mature level how to be problem solvers, collaborators, and creative thinkers. Immersed in rigorous academic classes and arts-centered learning, students use their own unique view of the world to arrive at unique solutions. Programs like our year-long, junior-year internship, global travel, and Model UN offer students scores of opportunities to explore their interests, embrace leadership options, take risks, and develop new areas of interest. And High school students begin exploring their passions with a college counselor their freshman year, which helps them get a head start on post-graduation plans.