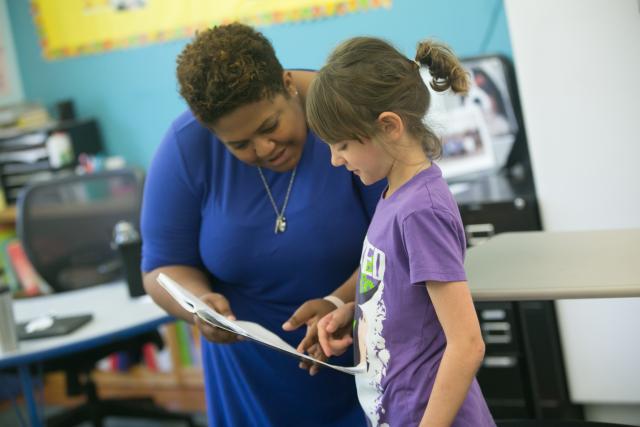 Our Partnership with American University
We all have strategies or work-arounds that target our individual challenges, but how often do we actually understand the "why" behind them? That "why" is the crux of the partnership between American University's Master of Arts in Special Education: Learning Disabilities program and The Lab School's year-long internship for a select group of AU graduate students.
"Our faculty are committed to providing AU students with state-of-the-art approaches ranging from arts-integration to neuroscience to technology, embedded into a program that is designed to help teachers support the strengths and needs of the student with language-based learning disabilities."
—    Executive Director, Institute for Innovation in Education in School of Education at American University Sarah Irvine Belson, PhD
Lab offers a Fellows Program to a select group of candidates from AU's MA in Special Education: Learning Disabilities program with the opportunity to complete a 12-month residency working with students with language-based learning differences at The Lab School.
Program highlights include:
Earning a master's degree in one year
A $10,000 training stipend
$25,000 tuition scholarship
Advanced training in Orton-Gillingham approach
Hands-on training in multisensory mathematics
A year-long hands-on internship in a Lab classroom working with a master teacher
Preparation for DC Licensure.
Fellows will be interviewed and chosen by a committee at The Lab School.
The AU Fellows in the program will benefit from marrying their experiences in the classroom with their coursework. This apprentice model has proven to be the most effective preparation for positions as classroom teachers, learning resource specialists, tutoring, and candidates for advanced study in psychology, neuropsychology, and special education.
Click here to learn more about the American University/Lab School program at American University.