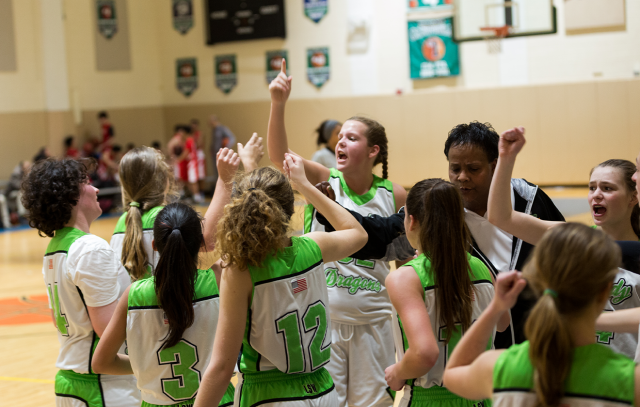 Lab students compete and win.
Lab students test their physical — and mental — limits on school athletic teams. Student athletes learn important lessons about pride, humility, leadership, discipline, responsibility, and sportsmanship. Plus they experience the thrill of victory thought shared effort.
Our teams are competitive and open to everyone. The purpose of the athletic program is to advance the educational philosophy of the school in the arena of developmental and competitive athletics. Developing the student-athlete's character through a positive and supportive environment increases self-confidence and therefore is essential to personal success.
Upper School
Middle School

Varsity Soccer
Varsity Basketball
Boys JV Basketball
Volleyball
Tennis
Track
Golf

Basketball
Fencing
Golf
Kickball
Soccer
Track
For many students with learning differences, the classroom can be a frustrating place. The field or court can be a place where they excel. No one is an elite athlete the first time they pick up a basketball, a tennis racket, or a lacrosse stick. Skill building takes time and practice; it's not a big deal to drop the ball or miss a shot … or two or hundreds of times as they develop their skills. And as the skills of young athletes increase — ones taught using consistent, systematic, and routine approaches — their confidence grows. This confidence makes its way back to the classroom where the students are more willing to take risks, fail, try, and try again until mastery is achievable.
Not only do sports help students gain self-esteem as an individual athlete and as a team player, but they also offer opportunities for young players to learn and repeat skills, make quick decisions during games and practices, and enjoy the adrenaline of physical exercise. In addition, studies show that exercising and playing sports help memory and thinking through both direct and indirect means. Getting your heart rate up improves blood flow to the brain, which helps boost memory and overall brain function; these chemicals in the brain affect the health of brain cells, the growth of new blood vessels in the brain, and even the abundance and survival of new brain cells. Indirectly, physical activity triggers brain chemicals that improve mood and sleep, and reduce stress and anxiety.