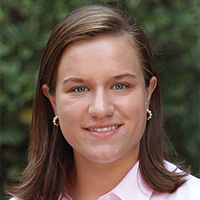 Emily Trepacz '18
Alumni
There Seems to Be No Stopping This Lab Lacrosse Dragon!
Varsity Lacrosse Player Emily Trepacz '18 decided goalie was the position for her when she was 4 years old.
Giving the position a try for a pre-school team in Great Falls, she was hit full force on her face mask. "After the game, my dad said he thought I definitely had the chops to be a top-notch goalie," says Emily. "He said, 'This is the position for you. You didn't even flinch!'"
Fast forward 12 years, and Emily, a sophomore, is co-captain of Lab's Girls Varsity Lacrosse team and a leader on and off the field. She says she loves being part of her close-knit team, playing with ferocity, learning from each other and their coaches, and having fun at the same time.
"Emily is a dedicated player. She truly defines what it means to be a student athlete and a team leader," says Girls Varsity Lacrosse Assistant Coach Alicia Sade McNeill. "On the field, Emily's a fierce competitor, and off the field, she contributes to our team by sharing her enthusiasm and her knowledge of the game with her teammates." Head Coach Molly Dunn adds, "I am more than confident in Emily's ability to protect our goal and lead the defense. She seems to love a good challenge!"
"I'm an aggressive player," Emily says, "and I think I am an aggressive and hard-working person off the field, too. If I have to pull an all-nighter for a project, I will. I push myself to get the results I want — in school and on the field."
Her ferocity and determination have certainly paid off. This summer, Emily will be representing Washington, DC at the 2016 Brine National Lacrosse Classic. Emily tried out with 200-300 other DC-area lacrosse players, and was one of three goalies to make the cut. The classic offers extreme competition, exposure to the next level of the sport, and an Olympic-style lacrosse experience for the players. "I think it will be fun to play with other really good players, learn from amazing coaches, and have some big college recruiters there watching," she says.