Heart Beat Fractions, Sensabots, Bust the Walls Cup Challenge
Ms. Brinza never seems to run low on creative ways to teach her Junior High Math, Engineering, and Robotics students.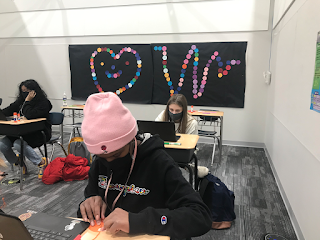 It may be dreary and February-ish outside, but in Ms. Brinza's Math class, students worked together to create a Simplifying and Converting Fractions and Mixed Numbers Mural for which they decided to make a heart/heart beat. Dots are in pairs representing a fraction in its simplest form or a mixed number and its improper fraction form.
In Engineering, students took on a Bust the Walls cup challenge. Working in pairs, they designed a tower made of cups and tape that would reach above the classroom walls. Another team designed a bridge that spanned a desk.
And in Robotics, students put together their robots and started the Carnegie Mellon Robotics Academy curriculum. Their first challenges, which simulate real-world robots, involved programming a robot to act as a sensabot and check a garage for security issues and another was to create a robot that waters an orchard.
Who knows what will happen come spring …