Highlighting Lab's Alums - Isa Cabrol '22
Lab is so proud of our Alums – who they are as people, and the postsecondary paths and careers that showcase their strengths and fuel their souls!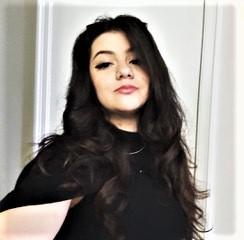 Many of you will remember the beauty and power of 2022 graduate Isa Cabrol's singing as the lead in Antigone in Concert.  A two-term President of Lab's Chapter of the International Thespian Society, she was also the driving force behind the play.  Isa's talent in the arts extended beyond the stage and often captured her dedication to social issues and social justice.  Her Senior Thesis illustrated how historical and political events influence fashion.  The accompanying original designs she created reflected her inherent style and skills learned in courses in textiles and garment design through Savannah College of Art & Design.  While in the Upper School, Isa also put her creative skills to work crocheting a blanket for Project Linus and sewing 100 masks to donate to shelters. Following a successful first year at Oberlin College & Conservatory, Isa spent this past summer studying musical theatre at the American Music and Dance Academy in New York.   An aspiring theatre professional, Isa recently landed a part in Oberlin's production of 13! The Musical, which will open in early December!