Lab School Junior Achieves Eagle Scout Ranking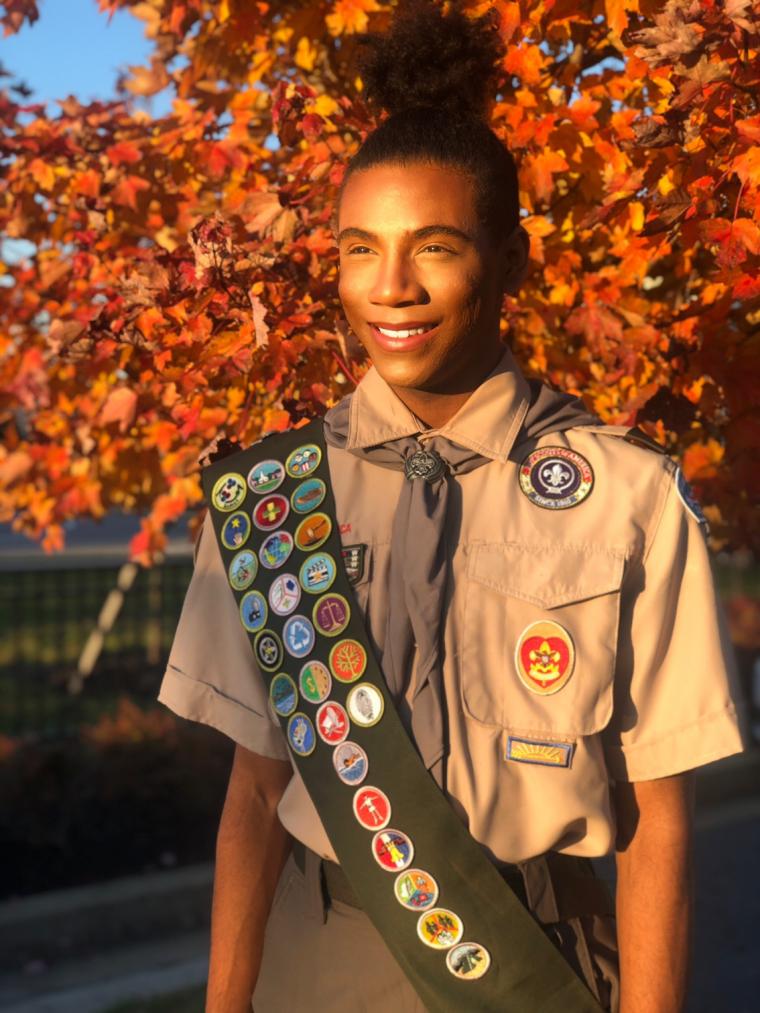 On Saturday, November 14, Andre Jackson '22 had his Court of Honor Ceremony where he was formally awarded his Eagle Scout Rank.
Andre is the first in his family to become an Eagle Scout and worked hard for the honor during the past seven years. The ceremony was held outside the Largo Community Church's pavilion area where safe-distancing and masks were worn by all.  
Andre was awarded the following:
A Certificate of Successful Completion and Award the rank of Eagle Scout from BSA
An Eagle Scout Medal, Gold Pin, and Eagle Patch
A Certificate of Achievement from Alpha Phi Omega National Service Fraternity  
A Letter and Certificate of Merit for Outstanding Achievement and Distinguished Service as an Eagle Scout of BSA from U.S. Senator Benjamin L. Cardin.
Andre's culminating Eagle Service project involved leading a team of 20 adults and youth in the collection of cleaning supplies and household items to donate to the Fisher House Foundation at Andrews Joint Air Force Base. The Fisher House Foundation provides free lodging for our wounded warriors and their families to stay, while they are receiving treatment. The donations helped the staff supply the needs of those families
 
Andre spent 60 hours on the project and was able to deliver 106 rolls of paper towels; 40 containers of Clorox disinfecting wipes; 39 bottles of hand sanitizers; 189 K-cups of assorted coffees and teas; 26 hot chocolate packets; 45 packages of Cheezit snacks; 42 packages of assorted chips; 30 packages of Frito Lay Baked Mixed chips; 36 cans of Pringles; 36 Quaker Chewy Bars; 64 Soft Chewy Granola Bars; 18 Breakfast bars; 48 Nabisco Nutter Butter Cookies snacks; 24 Animal Cracker snacks packs; 4 packs of Reynolds Wrap; 2 Boxes of quart-sized storage bags; 4 bottle of VO5 shampoo; and 2 large bottles of Tide detergent.  
Congratulations to Lab Junior Andre Jackson!