Lab's Young Alumni Event Brought Many Recent Graduates Back to Campus
The event included both a reception and a Q & A with a panel of college-aged alumni.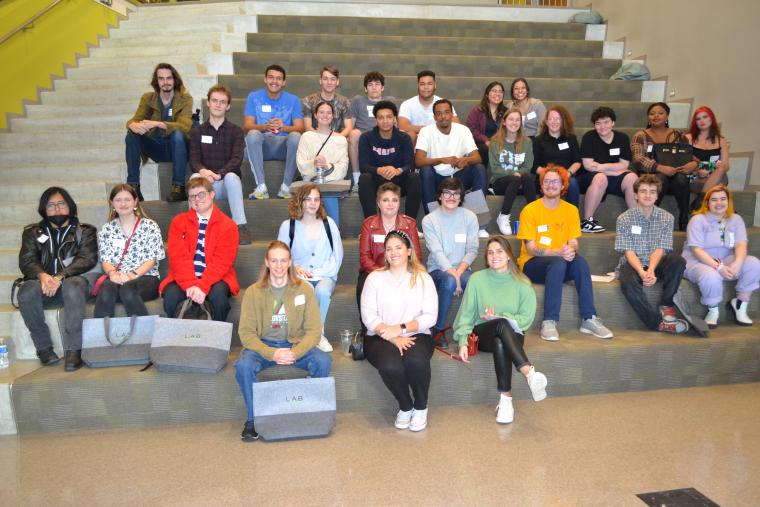 On Thursday, January 5, The Lab School hosted the first in-person alumni event in several years. Graduates from the classes of 2018, 2019, 2020, 2021, and 2022 were all welcome to return to campus to see each other and visit with faculty and staff. This reception was followed by a Q & A panel in which six alumni spoke to an assembly of Upper School students about their post-Lab experiences.
At the reception, the recent graduates were also joined by several recently retired faculty and staff members who were invited to the event to reconnect with their former students and colleagues. The event provided an opportunity for several of the alumni to meet Head of School Kim Wargo for the first time, including those that had previously only met her through a computer screen due to the remote campus in 2020 and 2021.
A panel of six alumni was assembled to speak to the Lab Upper School and 8th graders as the second part of the event. In a Q & A in the Shaun Miskell Theater, the members of the panel discussed their experiences post-Lab and the ways in which their Lab education prepared them for college. Each of the speakers stressed how their teachers at Lab gave them the tools to succeed and taught them to advocate for themselves at school and beyond.
Special attention was given to the Upper School's Junior Internship and Senior Thesis programs. The panel emphasized the importance of these programs and encouraged students in the assembly to take them seriously. In addition to providing real world experience for a resume and a model for self-guided and deadline-based work, the speakers said that the fields of study students choose for these programs could directly impact the direction they take in their lives and careers.
Answering questions from the audience, the panel also discussed subjects including their social lives in college and how the community in the Upper School at Lab gave them the opportunity to succeed after they left. 
A special thanks to our panel of Alumni!
Belen Riberas, Class of 2019, Notre Dame
Riley Moran, Class of 2020, UNC Chapel Hill
Reese Baldwin, Class of 2021, American University
Emry Goldstein, Class of 2022, Cleveland Institute of Art
Logan Johns, Class of 2022, Howard University
Alex Soto, Class of 2022, Northeastern University
Photos from the Young Alumni Event