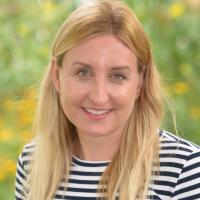 Lynn Gudhus
Elementary Science Teacher
A Conversation with Elementary's Miss Gravity
You never know what you will find when you pop into Elementary Science Teacher Lynn Gudhus's classroom.
Sure, she teaches Science, but through Lab's signature methodology of arts-centered education, Ms. Gudhus — AKA: Miss Gravity — brings dance, music, drama, and art to her lessons. Take for example, the culminating activity for a unit on sound and how humans hear. Reacting to the "arrival" of a sound wave, the students — each playing a part of the ear from the outer to the inner ear — presented through words and movement their part's job. "I'm the ear drum, and my job is to vibrate!" said one student, jiggling his whole body. "I'm ear wax, and my job is to collect all the yucky germs to prevent infection," said another, smiling widely, as she hulked around like a blob.
Another unit — taught as Ms. Gudhus' master project for her Arts Integration Certification through the Kennedy Center — focused on the water cycle. Based on the poetic book, Water Dance, students learned about evaporation, condensation, precipitation, and collection; to reinforce their knowledge, they drew and blended colors with pastels to create pictures of the water cycle. From there, they added spinning sundials out of cardstock on top of their artwork to highlight, one at a time, their pictures depicting the stages of the water cycles.
No doubt, Ms. Gudhus' young students will always remember — with a giggle — the anatomy of the human ear, and when it rains or snows, they can explain to anyone who wants to know that precipitation is a vital component of how water moves through Earth's water cycle, connecting the ocean, land, and atmosphere.

You sound like a fun teacher. Did you like learning as a kid?

My mother was a reading specialist who shared her love of books, and both my parents were big arts-enthusiasts who regularly exposed me to theater, dance, music, and art, so I gravitated to multi-sensory learning as a child. And as a kid, I also loved to make up dances to remember geography, or create crazy acronyms to recall the correct order of an algebraic equation.


After earning my master's from Teachers College Columbia University, working in publishing creating educational tools for teachers, teaching English in Japan and, for seven years, serving in Arizona as a first grade teacher and a reading specialist, I knew I wanted to move back to the East Coast. While visiting a friend in DC, I landed an interview at The Lab School and I left that meeting thinking: 'I need to work there! And I need to move to DC!'


I fell in love with the arts-centered way students learn at Lab — and there's so much of that you can do with science. No matter how long I am here, I find it incredibly invigorating to see these kids enjoy what they are learning as they thrive and succeed. There is nothing like seeing that spark, that light, that thrill in a little kid's eyes when something truly clicks, when the world opens up in a new way … and something that he couldn't do or understand before flips, just like that. It's especially moving when that happens with students with learning differences. That spark is somehow even brighter.