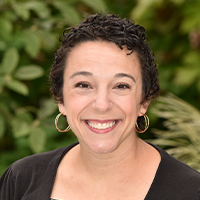 Melissa Wood
Director of Speech, Language, and Literacy
A Conversation with Melissa Wood, Lab's Director of Speech, Language, and Literacy
Words do matter. In fact, they can change the trajectory of a person's life. That may sound hyperbolic, but for Lab's Director of Speech, Language, and Literacy Melissa Wood, her love of language and word play … and her fascination with the complex interaction between language and literacy did just that. 

When you were in grad school at Massachusetts General Hospital Institute of Health Professions, why did you change your area of focus from medical work with premature infants to speech, language, and literacy?

The more I learned about language, the more drawn I became to how it is acquired, and its inextricable connection with literacy. And I have always been particularly interested in why some children and not others experience difficulty with phonological (i.e., sound) processing, oral expression, and language comprehension. I remember one little boy with language challenges I was working with at MGH … I was getting married at the time, and he gave me a drawing of a bride and groom with the message: 'I hope you have fun with your broom.' As with many of the kids here at Lab, that note is a perfect example of a child's sweetness and how language challenges impact him in daily life.

Why are reading and writing so difficult for some students?

Unlike walking and talking, which toddlers develop innately, reading and writing are artificial skills, abilities that must be taught through the skills of listening and speaking. Without proficient listening skills, a child will not be able to read proficiently for comprehension, and without prerequisite speaking skills, he will not be able to write clearly and cohesively. There are many nuances in these connections, but they are all connected.

Talk about the Literacy Initiative you launched in collaboration with Head of School Katherine Schantz?

We wanted to make an intentional effort to bring together Lab's specialized minds — division heads and assistant heads, classroom reading teachers, English teachers, reading specialists, and speech language pathologists — to collectively address how to improve the student experience, look at our practices and consistency across all divisions, and implement new research and professional development where needed.

How is the initiative progressing?

Already, the program is making significant headway with more opportunities for professional development and collaboration as well as diagnostic alignment across all divisions. Gathering this group of 75 staff members, all of whom are involved in teaching reading, to review evolving research, share ideas, ask questions, and become more intentional and aligned in how we teach reading and writing has been powerful. We are continuing to build from the foundation of our expertise.