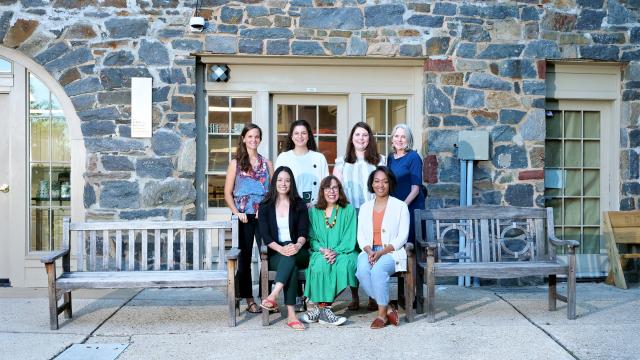 Occupational Therapy
Occupational Therapists at The Lab School of Washington use meaningful activities to help children and teenagers participate in what they need or want to do in order to promote health and well-being.
They address the physical, cognitive, psychosocial and sensory components of performance. Occupational therapy's expertise includes activity and environmental analysis and modification with the goal of reducing barriers to participation at home, school or during play.
Diagnostic Evaluations
Include standardized testing for gross and fine motor skills, visual spatial perception, and visual motor integration, visual motor, sensory integration and executive function.
Assess functional skills that include activities of daily living (ADL's), handwriting and keyboarding.
Develop a plan that uses a child's strengths to compensate for or overcome weaknesses in their unique profile.
Provides comprehensive and detailed reports complete with test score summaries and recommendations.
Consultation with parent and/families to discuss outcomes and strategies.
Occupational Therapy
Interventions that support participation and success in the continuum of all of life's occupations.
Individual one-to-one direct therapy
Consultation to teachers, support staff, and families
Specialized group activities that target specific skills
Many of our students receive direct 1:1 occupational therapy, which is offered privately or as part of their IEPs. Therapy can be provided both as a pull-out (outside the classroom) and push-in (within the classroom) service. Information provided during the admission process, along with evaluations and/or screenings help determine if a student needs treatment. 
Our therapists are specifically trained to identify developmental weaknesses linked to learning disabilities: reading readiness, sense of direction, posture, the ability to control movement, motor planning and coordinated movement, and sensory integration.
Students engaged in treatment receive an annual progress report that updates progress, identifies strengths and challenges, and makes recommendations for going forward. Our overarching goal is to maximize each student's ability to be fully productive in The Lab School's academic environment.
All Lab students benefit from non-direct integrated occupational therapy.  Examples include handwriting or keyboarding assistance in the classroom, environmental modifications in the classroom, study skills and life skills classes, as well as consultation with teachers as needed.
Our outpatients are typically students from other schools whose teachers have noticed academic or social developmental delays. Services are provided either after or before school hours. Parents may call us for an evaluation of your child, or you may be referred by a professional. As part of our service, we can observe your child at school, then consult with you and your child's teachers to help your daughter or son become more productive.
 
Lab's OT outpatient services include evaluation, treatment, and consultation. These are usually administered individually, although small groups of students with compatible goals may be scheduled together.
| Term | Description |
| --- | --- |
| Gross Motor Skills: | postural and core strength, balance, and bilateral motor skills |
| Fine Motor Skills: | hand strength, dexterity, finger isolation, hand development and bilateral integration |
| Visual Motor Integration: | handwriting, tool use, keyboarding |
| Visual Motor skills: | scanning, tracking, convergence, saccades, and focus |
| Sensory Integration: | vestibular, proprioception, tactile, motor planning and gravitational sensitivity |
| Visual perception: | visual discrimination, visual memory, form constancy, and figure ground |
| Executive Function: | planning, organization, initiation of tasks, time management, shifting attention, termination of tasks, self-monitoring and/or self-regulation. |