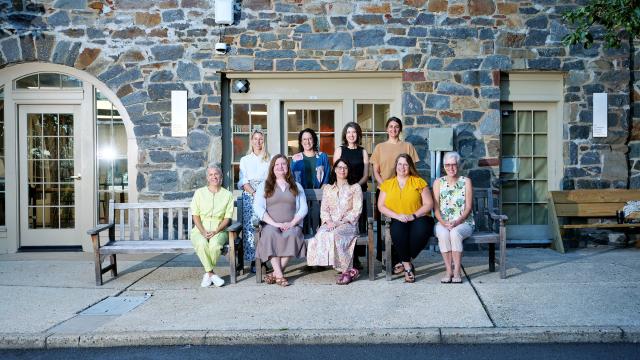 Speech, Language & Literacy
Speech-Language Pathologists at the Lab School of Washington specialize in the diagnosis and treatment of spoken and written language disorders. Our clients struggle with aspects of listening, speaking, reading, writing and/or social language.
Lab Speech-Language Pathologists assess listening, speaking, reading, writing, social language and problem solving skills in order to determine the individual language-learning profile of each student and project the impact of language difficulties on academic and social tasks. 
Assessments include:
standardized speech and language testing

review of prior evaluations, parent and teacher feedback

comprehensive and detailed reporting, complete with diagnoses and recommendations

parent-therapist follow-up meeting to discuss the outcome of the evaluation and recommendations for home and school
Research-based intervention programs and the latest technology facilitate progress and keep students motivated!
Individual Sessions: one-on-one therapy targets the student's unique speech-language needs

Small Group Sessions: students participate in team building activities that promote social awareness and confidence, while working on language goal
| | |
| --- | --- |
| | |
| | |
| | |
| Language Formulation & Organization | |
| | |
| | |
Lab Speech-Language Pathologists are available for consultation sessions to help parents understand their child's language-learning profile and guide next steps in facilitating an optimal language and learning environment both at school and at home.
Consultative services include:
review of evaluative reports, treatment plans, and Individualized Education Plans

communication with classroom teachers, tutors, and/or therapists

review of progress over time based on evaluation and school documentation

guidance for parents and professionals to determine appropriate accommodations, classroom and/or therapeutic objectives
Billing is charged on a fee-per-session basis. 
 
While The Lab School does not directly accept insurance plans nor deal directly with insurance companies, we do try our best to help families receive reimbursement for our clinical services. We provide documentation each month that may be used to file claims for reimbursement from your health insurance company.  Insurance coverage varies significantly by provider, so please refer to your plan for details regarding reimbursement stipulations, terms, conditions and limitations of coverage.