Celebrating Identity, Arts, Music & Unity (I AM U) 2021
Our friend and former colleague, the late Aaron Boose, left a huge imprint on our hearts and minds.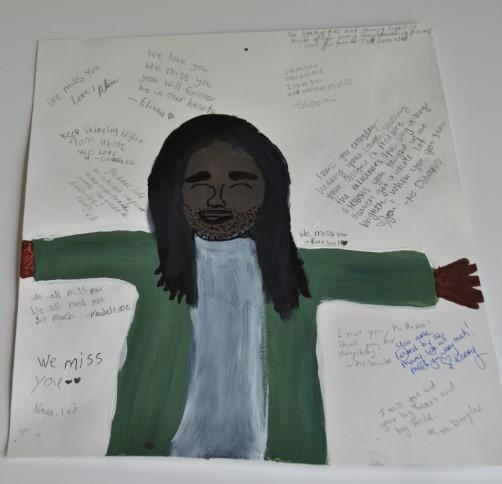 One of his legacies is the Identity, Arts, Music & Unity (I AM U) event, which he passionately organized and spearheaded. It took place for the first time in late February 2020. "Mr. Aaron," as he was affectionately known, wished that this event would be an annual opportunity for the entire Lab community to come together and feel celebrated and seen for our differences and commonalities.
This year, though virtual — and led exquisitely by Director of Visual Arts, Grades 1-8, Academic Club Teacher, Teaching Artist Sara Hawkins and Academic Club Teacher Liora Valero — the second annual event captured the excitement that Mr. Aaron brought to the entire community last year.
"Aaron would be so proud of this! He saw the greatness in all of you — students and staff. Thank you." — Tracee Blair, Aaron's mother
The event kicked off with a video and photographic montage reflecting how members of our community see themselves, what's important to them, their passions and talents, and their place in the world.
Then each division was honored to welcome a visiting artist or organization: Visual Artist, Activist, and Illustrator Trap Bob; Artist Nicole Bourgea; District Community Playback; and Musician, Artist, Mindfulness Guide Ofosu Jones-Quartey. Students, faculty, and staff enjoyed these dynamic presentations, sharing their thoughts and asking lots of questions along the way.
And building on the tradition, faculty and staff as well as some Lab alumni facilitated workshops ranging from activities in visual arts, performance, music, and cooking to writing, building, videography and more. These workshops were based on the facilitators' unique interests, skills, and backgrounds through which our students could explore their own identities and learn about those of others in a meaningful way.
Workshop groups created self-portraits, sculptural glasses made from found objects, zines, and power shields, wrote poems and self-reflections, and participated in some improv, hip hop, and music — and lots more.
"This was a wonderful event to share our truths and talents. I think Mr. Aaron would be really proud of all of you; he believed that showing and embracing our differences brings us all together." — Ms. Valero
To round out the event, students, faculty, and staff unified by gathering virtually to share their experiences and thoughts.
"I hope we can celebrate I AM U next year in person and feel the energy in the room together. Thank you for sharing what makes you, you!" — Ms. Hawkins
We were honored to have Aaron's mother attend the virtual event as well as alumni workshop presenters Maren Rosenberg 04, Katie Freeze '07, Tim Danos '06, and Kristop Rosario '15.
Beyond all, we wish Mr. Aaron were here, leading his event. But clearly, he was with us in spirit during the second annual I AM U event.