Digging Deep at the 2017 People of Color and Student Diversity Leadership Conferences
It seems that each year, the People of Color Conference (PoCC) and the Student Diversity Leadership Conference (SDLC) up the ante, asking its attendees potent questions and pushing them to dig deeper into their thoughts, beliefs, and actions around social equality and inclusion.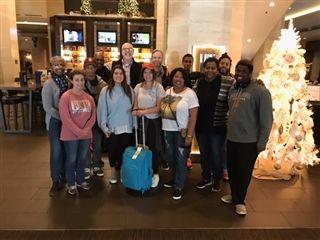 Celebrating its 30th year with the theme "Voices for Equity and Justice Now and in Every Generation: Lead, Learn, Rededicate, and Deliver," the People of Color Conference is the flagship of the National Association of Independent Schools' commitment to equity and justice in teaching and learning. The mission of the conference is to provide a safe space for leadership and professional development and networking for people of color and allies of all backgrounds in independent schools. PoCC equips educators at every level, from teachers to trustees, with knowledge, skills, and experiences to improve and enhance the interracial, interethnic, and intercultural climate in their schools, as well as the attending academic, social-emotional, and workplace performance outcomes for students and adults alike.
For the first time, The Lab School presented at the conference. Diversity Coordinator Yvette Shepard, Director of Admissions Dr. Robert Lane, and Associate Head of High School Chris Lanier addressed their audience with "Language, Labels, and Power: The Intersection of "LD" and Students of Color in Independent Schools." In their talk, they asked their audience members to challenge their thinking around students of color labeled 'learning disabled" and how students of color can be doubly affected in the federal special education system. They also talked about the scientific, historical, and political voices in special education, including a discussion of civil rights legislation as an inspiration for disability rights legislation. And the Lab trio also presented about how The lab School — where differences such as ADHD and dyslexia are seen as engines of innovative thinking and catalysts for empowering students of color and all students with differences. "We wanted to consider the Medical Model of disability, which casts the student or individual as the problem and the medical field as the savior, as opposed to the Social Model, which views the student's environment and societal attitudes as the obstacles to participation in society and the changing of organizations' procedures and practices as a solution. Through one lens, society remains unchanged; through the other, society evolves," says Dr. Lane.
In an email sent to Head of School Katherine Schantz after the conferences, Will Hummel, associate director of College Counseling at The Dalton School, wrote: "I just wanted to pass along a short note regarding POCC. I attended a session led by Robert Lane, Christopher Lanier, and Yvette Shepard, and I felt compelled to let you know that they did a truly outstanding job. The session was extremely informative, and I was heartened to see other educators in the room learning about and grappling with ideas like disability as a social process, medicalization, and the intersections between race, class, and disability. The three presenters were all wonderful representatives for your school; thank you for sending them to POCC and giving us a chance to learn how to do our jobs better."
In addition to Dr. Lane, Mr. Lanier, and Ms. Shepard, Lab faculty attending the PoCC included High School History Teacher James Bullock, Human Resources Manager Audra Gray, Intermediate Classroom Assistant Teacher Chidiki Jones-Whitley, and Associate Director of Athletics Tanya Rorie-Bryan. Students attending the SDLC included Jaleel Ali '18, Ben Coleman-Lyon '19, Genny Paliga '20, Belen Riberas '19, Sayaka Yamamoto '18, and Yosi Zelalem '19.
Ms. Gray who attended various workshops including "Recruiting Without Bias" and "The Four Sacred Gifts: Indigenous Wisdom for Modern Times" among others said, "I felt immediately connected to other women of color who have admin roles in their community. It was a great opportunity to see other administrators who look like me!"
Other Lab School conference goers attended "Can we talk? Getting Implicit About Implicit Bias," "Between Laughter and Tears: The Quandaries of Teaching About the Black Experience in America," "MENA (Middle Eastern and North African) Student and Faculty Experience," and "Amplifying Student Voice: A Case Study of a Leadership and Discipline Program with Minority Students" among other workshops.
"I spent two sessions in affinity group development. The level of thoroughness and competency was the highest I have experience in any conference ever. I did not want to leave," says Ms. Shepard. "We are so grateful to be able to attend and feel obligated — adults and students — to bring the value back to Lab for everyone to get the same benefit."
Back at school after the conference, the adrenaline from all they had learned and discussed still roared enthusiastically. Popping into Ms. Shepard's office with a big smile, Jaleel said, "I don't want to take my ID armband off I had such a good time. Everyone was so warm and accepting!"