Junior High Scientists Share Knowledge Among Themselves and with the World's Scientific Community
Students in Junior High Science Teacher Chris Coogan's classes have certainly been busy — inside and outside.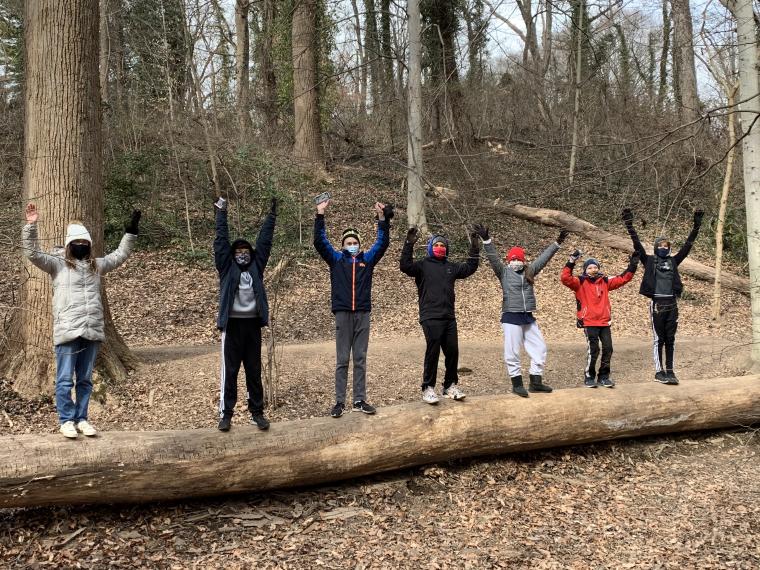 In eighth grade, scientists went on nature hikes down to Battery Kimble Park to use an application on their phone called iNaturalist. The app is a social networking service of naturalists, citizen scientists, and biologists built on the concept of mapping and sharing observations of biodiversity across the globe.
Students recorded, shared, and added their observations of the ecosystems around The Lab School with the world. 
Eighth grade Science students also examined the different states of matter from the Bose–Einstein condensate (BEC) up to plasmas, and discussed the phase changes of elements of the periodic table.
The class used dry ice demonstrations and experiments to show the process of sublimation and trapped CO2 to experiment with the density of gasses and the effects of CO2 on the pH level of water.       
Mr. Coogan's classes are also examining atomic structure and the bonding of metals. Using a formula taken from the pages of an old alchemist scroll, the students attempted to find the philosopher's stone, turning copper pennies into gold.
The students learned about the process of taking sodium zincate and copper and turned them into the alloy brass through metallic bonding, giving the appearance of gold.
In Design and Innovation class, Mr. Coogan's students have been examining the architectural work of British-Iraqi Architect, Artist, and Designer Zaha Hadid and studying her structures and learning about scale. In the classes' latest project, students we are returning to basics by putting away their CAD-based programs and designing and building from their sketchbooks and drawings, based on The Lab School castle.The students will then test their woodworking skills to design, cut, and assemble a scale replica of the school.