The Lab School's Virtual 36th Annual Gala Unmasks Brilliance
The Lab School can do virtually anything, it seems … pun intended! And who knew a virtual even could be such fun? Although we all missed being together at the National Building Museum as we have done in past Novembers, this year, the Gala took place in the spring and was virtual due to the pandemic.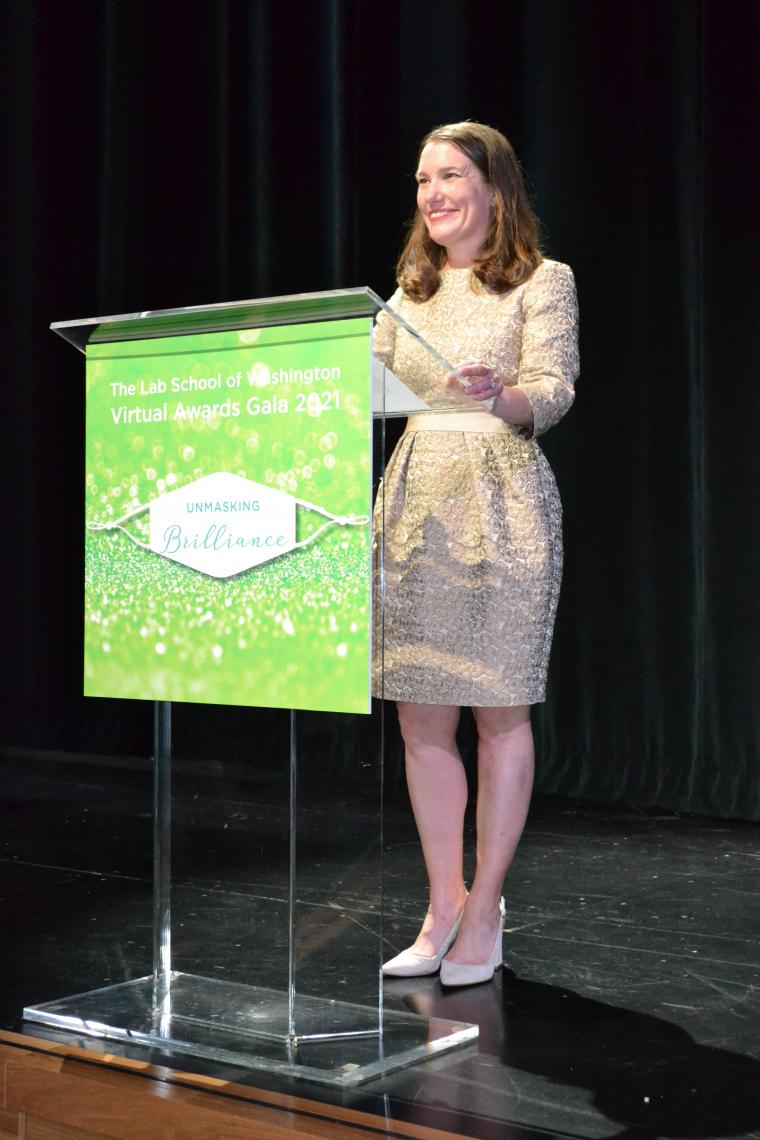 Lab honored two amazing outstanding achievers: Poet and Advocate LeDerick Horne and Founder of the Color of Music Collective Mia Van Allen '16.
Afternoon Gala Assembly
In the early afternoon, students, faculty, and staff welcomed Mr. Horne at an all-school virtual assembly.
He kicked off his talk with his poem "New Beginnings," which among other topics spoke of his life-long love of "word magic" and "poetic acrobatics." Only 10 minutes into the assembly, and the group was already captivated by Mr. Horne.
Mr. Horne shared his own story from a struggling grade school kid who couldn't read or spell to finding his voice as a well-known spoken word poet, author, and advocate for people with learning and other differences. He said he remembered vividly being in third grade, before being diagnosed with dyslexia, and dreading the "read down the row" activity in class when, filled with fear, he knew his turn to read out loud was inevitable. He spoke about his high school years when he struggled with depression and self-doubt. "Inside, I didn't feel as if I was smart even though as an artist, captain of the cross-country team, and well-spoken, I came across as confident and intelligent," he says. But something changed when I was 17. "I had a sort of breakthrough moment when I decided the world was wrong. I was going to create my own future into which I would be remarkable."
In college, Mr. Horne finally started to realize that he had some great advantages from the fact that he learned differently. He sought accommodations and asked for help. He leaned on those around him who saw his potential, his greatness.
Students asked Mr. Horne some thoughtful and astute questions.
Q: "Why did you want to be a poet?"
A: "I don't have a choice. It's part of who I am. I always loved words and language. In fact, as a kid, I walked around with a tape recorder and would tape conversations, snippets of dialogue from TV shows, raps from the mouths of my friends. And when I got to college, I learned how to edit what I was writing, which was the real game changer."
Q: "Were you scared to read your poems out loud in front of people?"
A: Yes! But my whole life has prepared me to do this. When I was the cross-county team captain, even more than running, I loved giving the talks before the meets to get everyone excited and connected. I have found that the feeling of being nervous is very close to the feeling of being excited. If you are ready, fully prepared — like when you swagger into class with all your homework done — the feeling is more excitement than nervous."
These were just a few of the questions that catalyzed a wonderful conversation!
Evening Gala Celebration
And despite — or maybe because of — the fact that no one had to dress up, battle traffic, hire babysitters, or juggle schedules to make it on time to a live event, Lab's Gala drew big crowds from houses all over the country — and world.
Emceed by award-winning Anchor from NBC4 Eun Yang, the event included words of inspiration and gratitude from Head of School Kim Wargo and Gala Co-Chairs Lori and Ben Soto. Their remarks united the community and also underscored the importance of financial aid, to which the proceeds of the Gala will be given.
And Mr. Horne and Ms. Van Allen spoke from the heart about their journeys as learners with differences and how the way they learn and see the world has helped make them who they are. Mr. Horne read his best-known poem "Dare to Dream." Wow.
And Lab wouldn't be Lab without gobs of creativity. The event included an incredible musical performance by a group of students and staff, spearheaded by High School Music Teacher Sean Rozsics and produced by former parent and Videographer Hugh Drescher. There were also heartfelt remarks from parents talking about their child's — and their whole family's — experience at Lab. Interspersed were photos from the year and some light-hearted Q&As with students asking Ms. Wargo questions like "What's your favorite French Fry?" "If you could change one thing in the world what would it be?" and "How many pairs of shoes do you have?" Suffice it to say, Ms. Wargo amused us with her wonderful, spontaneous answers.
The theme of the night was "Unmasking Brilliance." We do that every day in and beyond the classroom, but once a year, it is great fun to come together to celebrate not only outstanding achievers like Mr. Horne and Alumna Ms. Allen, but the entire community.