Students Show Off at the Academic Club Festival
At the Academic Club Festival, students have the opportunity to let their families have a glimpse at what they've been learning!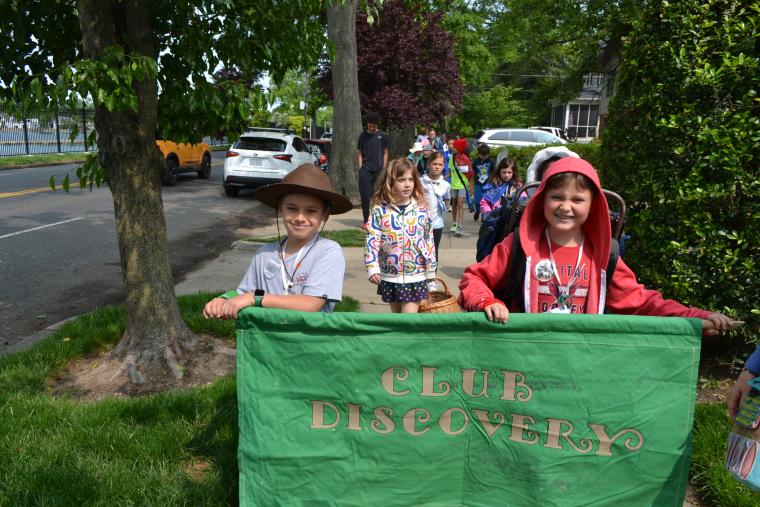 The Academic Club experience at The Lab School was originally conceived so that students would have a safe place to learn through imaginative, immersive role-playing in a project-based environment. This spirit continues under Head of Academic Clubs Liora Valero. At the beginning of Club Day, students in the Lower and Middle Schools gathered in the gym for presentations from each club showing off what they had learned!
From Foxhall, the students in Club Discovery demonstrated the bird calls that they had learned, while the Gods and Goddesses Club and World Cultures Club acted out scenes from mythologies they had studied: showing Perseus stealing the eye of the Fates in Greek mythology and the Rainbow Serpent of Australian Aboriginal mythology.
The Middle School clubs teamed up for their presentations. The Folklorist's club investigates history and how it is told, so they interviewed students from the other clubs about their studies. Students from the Renaissance Club had each studied particular figures (some famous, some less so) from history from all around the world that reflect the diverse stories from that time. They shared the stories of these figures as "living portraits," with the help of a large frame and the Museum Club students acting as docents. 
After the presentations came the traditional parade leading up to the outdoor festival. With the banners they had made, the students marched from the Reservoir Campus to the Foxhall campus with the families that had joined for the presentation. Parents and students then enjoyed visiting the stations of each club to learn more and enjoy some refreshments. All in all, the day was a great success!
More Photos from the Academic Club Festival