"They Take Away Your Shoelaces …"
"Sometimes I feel like I have walked into the middle of a movie. Maybe I can make my own movie. The film will be the story of my life. No, not my life, but of this experience. I'll call it what the lady who is the prosecutor called me. MONSTER." So says Steve, the protagonist in the young adult novel, Monster, by Walter Dean Myers.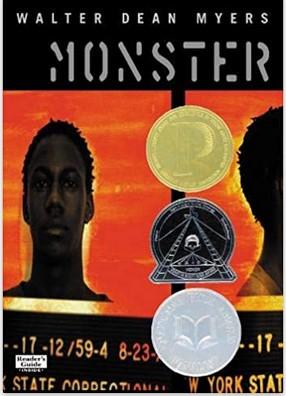 Students in Junior High English Teacher Mrs. Wolk's 8th grade classes are taking on this powerful book, the winner of multiple awards including the 2000 Michael L. Printz Award and named a Coretta Scott King Award Honor. Monster is a riveting courtroom drama told from the perspective of a 16-year-old African-American teenager who finds himself on trial for felony murder. In order to cope with his situation, Steve, the accused teenager, takes his avid interest in filmmaking to disassociate himself from what is going on around him in the courtroom by writing a screenplay of the trial. His other means of coping is to write a journal in which he can let his emotions out, including his fears, sense of isolation, self-doubts, questions about violence, fairness of the judicial system, and the morality of choices he may have made.  
Eighth graders at Lab — and everywhere — are at the precipice of making more of their own decisions … choosing their own friends, making their own moral choices, and observing the inequities and challenges around them. Through the story of Steve's experience, students are given the opportunity to discuss how Steve's actions led him to the road he took and the place he landed. It opens the doors to thoughtful reflections, conversations, and the realization that there are consequences to the choices teenagers make. Read in play format, students become the characters in the book, enhancing the connection with their characters, their understanding of the story, and the points the author is trying to share.
Due to Covid, the classes cannot act out the story with their chairs arranged to simulate a courtroom, so each student created a courtroom layout to help them envision the scenes as they unfold.