The Third Annual IAMU Celebration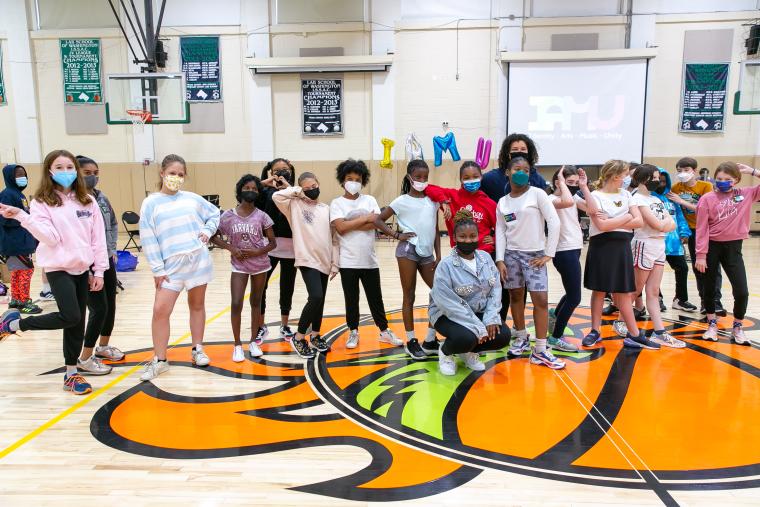 The third annual Identity, Arts, Music, and Unity (IAMU) celebration was held Friday, May 27th. The event was first organized by the late Lab Social Worker Aaron Boose in February 2020 to celebrate the many identities and talents in our community. It has lasted as a tradition because of the hard work of co-planners Sara Hawkins and Liora Valero.
IAMU continues as a celebration of both Mr. Aaron's legacy and art's ability to explore identity and create community. This year's theme of celebrating and exploring identity through the Arts also included an undercurrent of "healing through the Arts".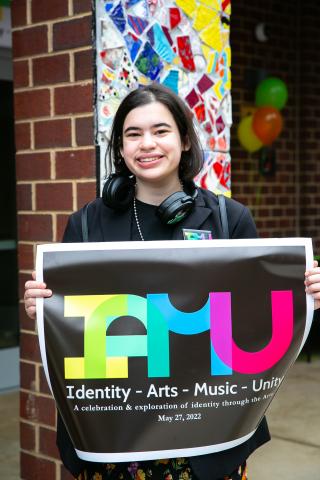 Out of caution, this year's event was half virtual and half in-person. Streamed opening and closing ceremonies featuring student performances, arts, and music bookended the day. In between, faculty and staff led workshops either online or in-person that fostered a space for students across the school to explore and share some aspects of their identity with one another.
Students were able to select from a wide variety of workshops including a soul food cooking class, songwriting, folk dancing, West African Drumming, creating wearable technology, exploring the history of hip hop, a nature walk, and more!
IAMU wouldn't exist without Mr. Aaron's spearheading of the event two years ago. This year we were honored to have his mother, Tracee Blair, and two sisters, Nicole and Nyah, join to celebrate his legacy at The Lab School.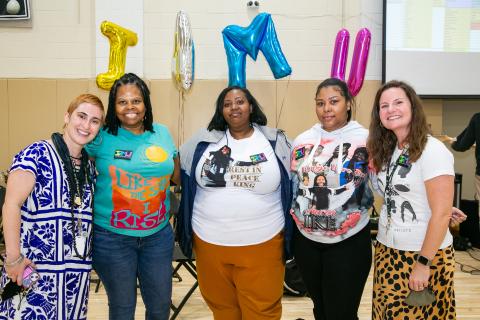 Also on display was a portrait of Mr. Aaron painted by Nicole Bourgea during last year's virtual IAMU event. Nicole spoke to Lab students about her art process and how she has built community through the Arts. She related some of her art making to the social work that Mr. Aaron did at Lab and how he made everyone feel seen, heard, and that they matter. 
As Nicole spoke, she painted a portrait of Mr. Aaron with the coffee right out of her mug onto paper. While she painted, she talked about the importance of hearing, seeing, and getting to know who you're painting to capture their essence. She'd never met Aaron, but what some of our staff and students had told her about his joy, energy, patience, and overall bright presence were qualities she sought to capture in her piece.
A few months after the IAMU event, Nicole sent the portrait to Lab. She wanted it to be with the Lab community and to remind us of the joy that emanated from Mr. Aaron. The portrait now moves among various locations around both the Reservoir and Foxhall campuses just as Mr. Aaron did as he worked with all of our students here at Lab. 
Mr. Aaron created IAMU with the intention to build community, to meet and learn about new friends, and to explore and celebrate identity through the Arts, and Friday was a day of fun and joy for our students!