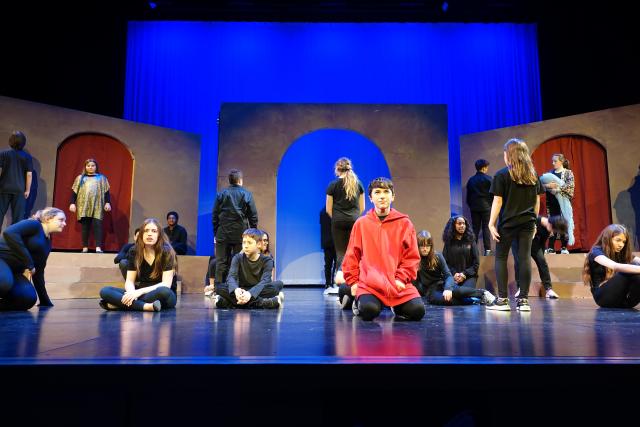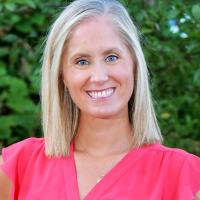 Sally Kiernan
Head of Performing Arts
Anon(ymous)
Junior High Drama students bring lyric journey to life on Lab's new stage.
Where I come from is oxen in rice fields and hills the color of green tea. Where I come from is jungles filled with jaguars and pythons thick as a grown man's thigh. Where I come from is poison frogs the size of a thumbnail and squirrels that can fly from tree to tree. Where I come from is waterfalls taller than the tallest skyscraper …
Anon(ymous) — as much an epic poem, a cacophony of sounds and songs both joyful and despairing, and a lyric plea to the human heart — opens with an ensemble of refugees putting into words their dreams, their sense memories. Dressed all in black, the ensemble represents the faceless, nameless refugees who, for survival, had to flee their countries and homes.
Directed by Elementary and Junior High Teaching Artist – Performing Arts Sally Kiernan, Naomi Iizuka's stunning play came to life on the stage of the new Shaun Miskell Theater as the Junior High actors immersed themselves into the dreamlike collage of scenes.
Borrowing loosely from Homer's The Odyssey, Anon(ymous) traces the parallel narratives of a teenage boy — Anon — who lost his home and his mother, and a mother who lost her home and her son. Like Odysseus making an epic pilgrimage to find his way home, Anon must face the oscillating meanings of identity, home, family, and belonging.
Along the way, he meets an immigrant family who owns a restau¬rant, the scions of rich and powerful landowners, and a group of factory workers — most of whom, like Anon, are from away, from war-torn parts of the world. "I am really homesick … like a big empty room inside of you," one refugee says.
Along with the minimalist yet unambiguous costuming, the lighting — at times layered in shadows, at others flicked with sharp, shard-like edges, the sound in the show was chilling — birdsong, ocean waves, the thrum of rote machinery — seeming to parallel the deep sense of loss the characters must feel.
At one point, Anon must swim through a perilous expanse of water. A sort of dance of strength, will, and longing, he weaves through the bodies of the ensemble, again, evoking what "journey" means both physically and emotionally for asylum seekers forced to flee their homelands.
Although a play of heady topics, the point of view in Anon(ymous) is both youthful and mature. Above all else — and so winningly por¬trayed by these Junior High thespians — the play is a haunting ode to home.