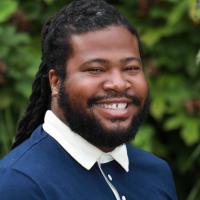 Aaron Boose
Clinical Social Worker
Celebrating Aaron Boose
The world is definitely less vivid without our beloved Aaron Boose — Lab School colleague, friend, teacher, social worker, artist, activist, leader, and bright light of hope. Aaron passed away on October 26, 2020. He made an indelible mark on all of our lives that will live with us forever.
Aaron had an infectious smile and the sound of his ebullient "good morning!" and "hello!" echo in our hearts. Through his poetry and rap music, he shared his experiences and challenges as well as his irrepressible and ever-positive spirit.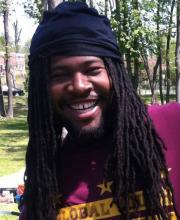 In a video interview — done early this fall — about social justice with students in Junior High English Teacher and Teaching Artist Adam Toal's Videography class, Aaron explained that he started writing poetry and rapping to cope with his emotions.  "At first, it was therapeutic, and then it became fun, too," he said. "Music brings me joy and I receive joy by sharing it with other people. For me, music is a weapon. Weapons can be used to harm, or weapons can be used to help. Music is a straight definition of a weapon to battle oppression, a weapon to battle depression. For people who can't speak, I try to provide a voice …"
Watch the full interview from the Videography class here.
"Aaron made me a better person just by being around him. He did that for all of us; he inspired us, he lifted us up. He had a way of seeing beauty in people that we weren't able to see in ourselves.  For me, he was a partner, a confidant, and a teacher, someone I could count on.  Aaron could transform whatever he encountered — words, music, people ... into something more beautiful.  Art, compassion, vision, all wrapped up in this incredible spirit — that is Aaron."

— Director of Reservoir Psychology Group Doug Fagen, PhD
Aaron loved the fact that as a social worker, he worked with students and colleagues in all four divisions. When heading to Foxhall from Reservoir, he would joyfully say that he was off to see the "four footers." While working on his amazing I Am U — an event which celebrated the many identities at Lab, unifying them through the arts — held in February 2020, Aaron said, "I am lucky in my position as a social worker at Lab because I work with all four divisions and have the opportunity to be a witness and a participant to the growth of students at all levels of their development.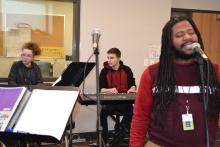 I wanted to share my enviable position with our whole community. Everyone is so busy and committed at Lab but I believe that it's important to take the time to share with each other — in a deep way — what we are doing in and beyond the classroom; that sharing expands us as individuals and as a community."
Aaron loved being in the classroom. Take a look at him in action:
"Aaron was a mirror that I held up to keep myself accountable. However, and more importantly, he was a Black man with hopes, dreams, fears, aspirations, and, to quote my grandma, with "a whole lotta life left to live." His passing has broken me. In this role, I looked forward to the work that he and I would do to make not only Lab, but this world more equitable and inclusive for people who look like us and those that don't. I can still see the sparkle in his eyes when he talked about his plans to become Dr. Boose. This work undoubtedly will be harder without him. As a Black man here at Lab, I looked forward to the continued human connection with another Black man. I looked forward to our moments of unfettered Black joy."

— Director of Diversity, Equity, and Inclusion Anthony Perry, PhD
Those of us who knew Aaron were given a great gift, a great privilege; he will always be in our heads and hearts.
Here are some of the reactions to losing Aaron from faculty, staff, and parents:
I am so devastated. Aaron was a beautiful person, a beloved member of our community, a super positive and accepting person and a brilliant social worker and poet. Everyone felt cherished and understood by Aaron!
His infectious laugh and endless smile will stay with us.
I simply adored him.
Aaron's smile lit up the entire school. So sad for everyone to have lost him.
What a truly wonderful human being.
Such a big heart. I am sure he is going to burst through my door any minute. So hard to fathom.
There are no words… except that the world will shine a little less without Aaron in it. How truly lucky we were to have worked with him…. how truly lucky our students were to have known him and learned from him. I feel honored to have called him a friend and will find comfort in the tremendous impact Aaron had in our community and the I Am U legacy he left us. I will find solace in the incredible amount of memories shared by us all. It is truly a testament to who Aaron was.
Such an amazing human. His life was cut short too soon. Thank you, Mr. Aaron for being a light for us all and particularly for our black and brown children at Lab. You impacted more kids than you know! And grown-ups.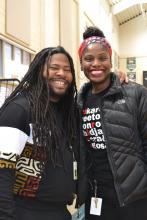 A beautiful human, teacher, and friend. This is a devastating loss for our community.
He was the most generous-hearted and joyful soul I think I've ever met. He lit up the hallways and classrooms.
Aaron wrote this poem for Lab's faculty and staff last spring.
Your Voice Inspired Me 2 Rise
Without you, I wouldn't be me,
At times I lacked hope you inspired me to be,
The brightest star in the sky,
The building that stands high,
The bird with a broken wing, that somehow can still fly,
I fly because of you,
Your essence is so true,
That's why I feel the love, through everything that you do,
Yeah I love sports, but you deserve that bag more than them,
A signing bonus of 10 mil for when the school year begins,
I'm just thinking out loud because you have the longest season,
A world without teachers is a world without reason,
Which means we lack logic,
And are oblivious to knowledge,
You help us to shine because you're poised and your polished,
I'm thankful for your efforts when you wear more than one hat,
The days I struggle most, but you still have my back,
 I need to know why?
Were you a gift from the sky?
Because TEACHERS ARE SUPER HEROES whose voice inspired me to RISE!
Hear Aaron Boose sing with Intermediate Academic Club Teacher Liora Valero. They wrote and recorded this song, and were working to finalize it.
Aaron wrote and performed a song, "Shine Bright" for Elementary Science students about the solar system. They joined in enthusiastically! 
Take a look at the feature article about Aaron's amazing I Am U event, which took place in February 2020. The story was published in the Summer 2020 LINK magazine.
Click here:
iamu_link_summer20.pdf
(5.4 MB)
Use this easy form to submit: