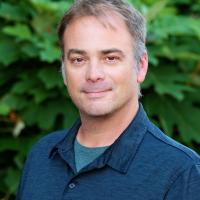 Chip Irvine
High School Teaching Visual Artist
Covid Comics
The covid-19 quarantine has expanded students' creativity to new dimensions.
There are images of demonic creatures depicted in pastels, an intricately illustrated step-by-step "How to Survive the Apocalypse" comic book, a funny but dark story about a black market toilet paper dealer, and an insightfully illustrated story of a girl who prepares for "the last day" by stocking a panic room, making a map and getaway plan, and customizing her car to protect her during her ultimate escape to safety.
These are just a few examples of what surfaced from the imaginations of students in High School Teaching Visual Artist Chip Irvine's Studio Art and Film classes. "Soon after we closed school down and started distance learning, I assigned 'Creative Books 2020,' which could take on the form of an artist book, graphic novel, or comic book," says Mr. Irvine.
"We started with interview questions around the logistics and emotions of being quarantined due to covid-19, questions they could pose to themselves, another person, or a fictional someone."
The intentional details are certainly what made these projects come to life. One artist book with a panda as the main character, called "Quarantine Days," focuses on one positive of the quarantine—a break for the environment. One spread shows a high rise with myriad people and animals in the windows, an empty highway below and the words, "Most people are bored out of their minds from staying inside." On the next page, below a drawing of the earth, the artist writes, "As everyone is inside, the earth is getting a break from lots of air pollution. This is a time for the earth to heal from an abundance of chaos." Another art book, with but a few words, pictures Picasso-esque figures and faces evoking both amusement and despair. And another comic book, created simply in pencil, includes enlarged illustrated details like feline claws for "tools" to fight his foe, and close-up eyes that fill whole comic squares, underscoring the character's shifting emotions.
"I am always amazed—and impressed—at how art serves as a form of expression to channel our inner feelings," says Mr. Irvine.
Perhaps Mr. Irvine's students will repeat this assignment when the world returns to some semblance of normalcy ... who knows what the artistic details will reflect.