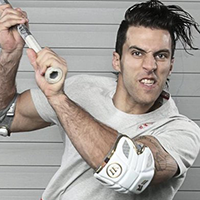 Paul Rabil
Professional Lacrosse Player, Atlas Lacrosse Club
Lacrosse Great Paul Rabil Helps Lab Kids Find Their Flow
The Lab School hosts lacrosse star Paul Rabil during a pep rally full of fun and inspiration.
He signed people's arms and hands, their shoes, shirts, and scraps of paper. Videos were filmed, and photos and selfies snapped. LOTS of photos and selfies! The Lab School was lucky enough to once again host Lacrosse Great Paul Rabil who gave a heartfelt and inspirational talk to the students and faculty and handed out nine micro-grant scholarships through the Paul Rabil Foundation, which is committed to helping children with learning differences by creating programs and partnerships through sport and scholarship.
Answering questions from the student audience, Paul, who plays for the New York Lizards and Team USA, talked about having the courage and vulnerability to ask for help when needed, and why that is so important for success in any arena. He also talked about being a life-long learner with an endless cache of curiosity, and finding what you are good at, what you are passionate about, and grow it from there.
As someone with challenges with auditory processing, he had to repeat things two-to-three times to master them, He brought that repetitive behavior to lacrosse. Knowing that that was how he learned, using that cycle, helped him become the legendary player that he is. And beginning with a Facebook page in 2009, Paul's grown his audience into a broad multichannel digital network of more than 600,000 fans and is considered one of the world's most tech-savvy athletes, according to SportTechie. With a youtube channel as his core focus, Paul launched a podcast to discuss high performance lessons from the most prominent athletes and influencers in sports.

What advice would you give Lab students today?

I'm very ambitious and I work hard, but from an achievement standpoint, you can only succeed if you try. You can't be afraid to put yourself out there.


Oh wow, let me think.... I think technically, yes, I mean, you've got meat between two sides of bread plus, like, condiments.. so YES, a hotdog IS a sandwich!