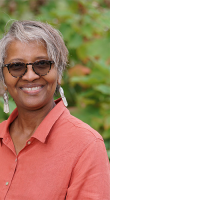 Yvette Shepard
Director of Diversity, Equity and Inclusion
Tightening the Threads of Identity, Art, and Unity
Having your personal story or artwork published in a magazine is an honor; it can also be an act of bravery. Laying your personal feelings or experiences on the page is opening a window into your vulnerability, your true self. What a gift to share with others.
That is just what three Lab High School students did this year by submitting their work to the Winter 2019 issue of InLight magazine, published by Sidwell Friends School and featuring student work from Sidwell, Lab, Potomac, and Edmund Burke. Ethan Kabati '19 and Rafi Katkov '19 both had essays published and Evelyn Connor '20 had a self-portrait in pencil featured. (See accordion below.)
"Our expanding and deepening plans around DEI are exciting and daunting, but we wouldn't have it any other way," say Ms. Shepard. "Lab is forward-leaning by definition; facing and overcoming challenges is what our school is all about."
A Lab School student was featured in the magazine last year. To expand on this effort to feature individual voices, Lab School Social Worker Aaron Boose with creative support from High School Biology and Art Teacher Becky Alberts, launched the InLight Club in 2019 with the goal of encouraging all divisions to share personal stories, poems, and art. "I believe the more we work across all divisions on issues around identity — anything about the self — the more we will grow as a community because we will be sharing our experiences and celebrating our differences," Boose says. "Talking, writing, or creating artwork about our differences will enrich our whole community and create more unity." The InLight Club plans to publish two Lab School exclusive InLight issues during fall and spring of next year in addition to collaborating with Sidwell on the winter multi-school issue. The theme of the Lab School exclusive fall issue will be Intersectionality — a term coined in 1989 by American lawyer, civil rights advocate, and a leading scholar of critical race theory Kimberlé Crenshaw to describe how race, class, gender, and other individual characteristics "intersect" with one another and overlap.
"I'm all about metaphors and allegories, so I'll say that we as individuals and a community at Lab need proper nutrition to thrive," says Mr. Boose. "Our plans around the school's Diversity, Equity, and Inclusion initiative are certainly ambitious. We have a lot on our plates. But to get the proper nutrition, we need protein, vegetables and fruit, so the mind, body, and spirit can gain and thrive in a diverse community. … you get the metaphor."
As part of the platform for generating more conversation and sharing more writing and artwork around DEI, Mr. Boose and Diversity Coordinator Director of Diversity, Equity & Inclusion, Yvette Shepard also plan to introduce school-wide Affinity Groups to more readily bring together diverse identities and voices in order to strengthen the feeling of belonging in the Lab community.
Here is Evelyn Conor '20's self-portrait from Winter 2019 issue of InLight:
PHOTO HERE
Here are excerpts from the InLight, Winter 2019 issue:

Jewish Identity by Rafi Katkov '19

I ponder what my Jewish life will look like in the future. I hope to one day be in a Jewish community and find the love I once had — taking part in the rituals and showing solidarity with people in need, but until them, my heart is with the oppressed and against the oppressors, not just in Palestine, but everywhere.

Yin Yang by Ethan Kabati '19

Picture the scene: I'm 7 years old, sitting in front of a TV, and watching one of my favorite cartoons when a circular symbol appears on the screen. It looks like a black fish and a white fish swimming around each other. I'm intrigued by the design of this symbol. My cartoon friends tell me that the symbol is called "yin yang," and that it represents balance. I liked that it was part black and part white, like me; my father is dark-skinned from Zambia, and my mother is very fair.… I've also come to understand the upside to my learning differences. These 'disabilities' help me see challenges differently and solve them creatively — another example of the yin yang's teaching at work in my life.