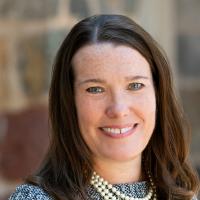 Kim Wargo
Head of School
Welcome New Head of School Kim Wargo
As a little kid, Lab's new Head of School Kim Wargo had a favorite game: "playing school." There she was, 4-5 years old, out with the neighborhood kids in Baker, Louisiana, and she would invariably play the teacher. "Even if I was the youngest kid, I made sure I got to be the teacher," laughs Ms. Wargo. "My mother called it my destiny."
Ms. Wargo did not set out to be a teacher, or someone whose career path would invariably lead her to a school. First, she thought she would be a lawyer, then a journalist, then a college history professor. In fact, she had taken her exams in the PhD program for history at Tulane University and was about to start her dissertation when her husband, Mark Cortez, a middle school math teacher, accepted a job in Texas. "We moved and I took what I thought would be a short detour from my PhD to be a writing teacher at Mark's school," she says. "That was the last thought I ever gave my dissertation."
Ms. Wargo thrived as a teacher but, early in her career, she made the leap to school administration. Back in New Orleans, from 2001-2008, she served as head of the Upper School at Louise S. McGehee School. "A mentor thought I had the sensibility and skill set for administration, and frankly, once I got a taste of it, that was it," she says. "At McGehee, I loved the relationship I could have with students in a different capacity than as their teacher, as well as with my colleagues." While at McGehee, Hurricane Katrina and its aftermath brought much of New Orleans to its knees; she learned crisis management from the ground up. From there, Ms. Wargo served as associate head and head of school for four other schools in San Francisco, Dallas, Chicago, and New Orleans.
"I CAN'T ... YET"
What Ms. Wargo has brought to all of her schools is her passion for whole-person support. "I've worked in lots of different school settings—high-powered schools, soft-skills-focused schools, schools with a myopic focus on college placement—but no matter the culture, I have always tried to focus on knowing each student as a whole person," she says.
"You can't help a kid get into a good college or empower a student with learning differences to self-advocate if you don't spend the time and resources focusing on who the whole person is—a student's needs and ... dreams. Above all, school should serve as the vehicle for helping students become who they're capable of becoming."
She knows that nurturing whole-person support is equally important for her faculty and staff. "Great teachers are passionate about teaching, and great teachers care deeply about the well-being of each student in the classroom. Great schools  are ones that are on a journey of continuous improvement ... that exist to serve students and take seriously their obligation to provide a learning environment that supports every child," says Ms. Wargo. "I believe this is even more true when it comes to those who work with students with learning differences. I know this firsthand because my daughter—a 2020 graduate of Bowdoin College—was diagnosed with dyslexia in kindergarten and I have seen the empathy, patience, and power that teachers and a whole school community can offer. I believe that every child deserves to learn in an environment that frames challenges—'I can't'—and transforms them into the context of individual growth—'I can't...yet.'"
THE LAB APPEAL
When Ms. Wargo and her husband visited The Lab School—with separate agendas—they met back at their hotel that evening and compared notes. "Mark asked me what I thought. I said the word that kept popping to mind was 'magical.' 'That's the exact word I was going to use,' Mark said. Mark and I have worked at many different schools but we believe that you can get a real vibe for a school, even after one day," says Ms. Wargo. "What rose to the surface more than anything else during our visit was the shared mission and ownership at Lab, the commitment to help every child succeed in whatever way that needs to happen, and that learning should be creative and joyful.
"The Lab School is unique in its mission, and its reputation proceeds it. I am honored to take on the role of head of school at this amazing place and have the opportunity to work with the caliber of teachers and staff who really made a difference for my daughter."
During her first several months at Lab, Ms. Wargo plans to do a lot of listening. "As a leader, I start from a place of collaboration. I believe, especially as you are getting to know the culture of a new school, that listening is crucial as is building a culture of mutual trust," she says. "I also know that you can't lead totally by collaboration, and for the health of an organization, a leader needs to be comfortable with making direct and responsible decisions. I look forward to engaging with Lab's community and working from a place of honesty, integrity, and openness."
ENTER: COVID-19
When the hypothetical "what if" of quarantine and distance learning became a reality, almost over night it seems, schools had to act, and fast. Just like at Lab, Ms. Wargo's previous school, Isidore Newman, had to go into crisis mode and pivot to remote learning. With some bumps along the way, especially in the lower school where teachers used less technology in the classroom than in the upper grades, Newman quickly shifted to a successful distance learning plan. "These are not normal times for any of us. Teachers are basically living their first year of teaching again, no matter how experienced they are, and students feel like they are at a new school. We all need patience as we create this new normal, especially since we don't know what returning to 'normal' will look like and when."
That said, Ms. Wargo, who has been working closely with Lab's administration and Board of Trustees during the last few months while still serving as associate head at Newman, says her goals as Lab's head of school are the same with or without the pandemic. "During a crisis, you can get hyperfocused on the immediate needs, which is natural and necessary. But relationship building is always the most important part of joining and leading an organization. We might have to be more creative and innovative if most of the learning continues to take place off campus next fall, but everything important and successful comes from the foundation of strong relationship building."
SAINTS, NATS,  AND A WAND
Although Ms. Wargo is a New Orleanian at heart, she and her husband have always wanted to live in Washington, DC. She will always be a die-hard Saints fan—non-negotiable!—but is excited to expand her "Natitude" as a Nationals fan. And once the museums and DC sites are back open, she and Mark—who accepted a position at One Schoolhouse as director of Student Support—are excited to start exploring their new city.
In her new office at Lab, Ms. Wargo hopes to adorn her walls with lots of Lab School student art. She will also show off her love of Harry Potter by displaying character figurines and copies of the eight volumes in various languages she has been given over the years as well as a papier-mâché wand made by one of her students. "All the lessons of life are in those books," she laughs. "Who knows what kind of teacher I could have been playing school back when I was a little kid with my neighbor friends if I'd had Harry Potter as my guide!"