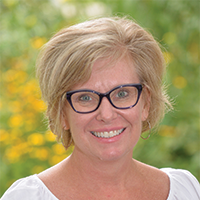 Colleen Cavanagh
Elementary Administrative Assistant
From Where I Sit | Colleen Cavanagh
In many ways, Ms. Cavanagh — with her sweet smile and breezy sensibility — is the oil that keeps the gears running smoothly at Foxhall.
Colleen Cavanagh keeps a notebook on her desk, its hard cover designed with phalanxes of smiling orange foxes. In it she has written funny things students have said over the last five years, during which she has served as Elementary's administrative assistant — or more precisely as the warm and friendly caregiver of all caregivers at Foxhall. "I had a great day today, I got to play with swords!" she reads from the notebook. "I was supposed to be in the triangle of focus, but it can be hard sometimes and now I'm in the triangle of unfocus," she says, quoting another student. "I remember the day David Letterman came," she recalls, smiling. "He passed one of our students in the hall and asked, 'Everything going your way today?' Well, the little guy, not skipping a beat, pivots on his toes, points at Letterman, and says, 'Ac-tu-ally, do you mean that everyone is going the same direction today or do you mean how is my day going?' You should have seen the looks on Letterman and his camera crew's faces. It was priceless!"
In many ways, Ms. Cavanagh — with her sweet smile and breezy sensibility — is the oil that keeps the gears running smoothly at Foxhall. She stores packages of oatmeal, pretzels, and the makings for cheese sandwiches in case someone forgets lunch, or just needs a snack and a kind word. She applies Band-Aids and solves scheduling challenges and missed rides. She works in tandem with the head and associate head of the division and she supports the teachers, but most importantly, she listens. Whether a student having a spell of sadness or frustration, an overwhelmed teacher, or a parent who simply needs to vent, she is the person to listen and validate. "Everyone needs someone to listen. Sure, people email and text, but sometimes you want to be heard, really heard, by a live person. I enjoy making people's problems go away — whether that means finding them the information or answers they need, connecting them to a specific person, or simply listening and empathizing," she says. "I often hear, 'Thank you, Colleen, I feel so much better now.' How can that not make your day?"
Before her now 14-year-old daughter, Anna, was born, Ms. Cavanagh earned her teacher's degree and taught in various schools and grades including as a reading teacher for fifth and sixth graders at a Catholic School in Springfield, Illinois — "the Land of Lincoln" — from where she hails. She also worked in the Illinois governor's office where she learned myriad skills, especially those helping people get what they needed. 
Over the last year or two, Ms. Cavanagh has taken it upon herself to reorganize and modernize the Foxhall Library. One cart at a time, she brings books to her desk to organize and label. "I've had lots of help from my 'assistant librarians' — kids who need to stay in for recess and sitting with me." The library has been noticeably transformed and because of this, the teachers are creating more activities around library time.
"One day is never like another here. There are a lot of moving pieces; it's like a ballet to make sure everyone is where they should be and when," she says. "It takes all of us working together, and I try to make sure everyone is happy, especially the bus drivers like Darrell Jefferson (there are 12 different places the students can go for dismissal!) and Gonzalo Romero, our fabulous Facilities person who are really the unsung heroes."
"I have met so many lovely people here, and I enjoy the fact that my job has a beginning and an end each year. There really is nothing like the smell of new crayons each fall, and the rushing communal excitement of the start of summer vacation in the spring," she says. "My colleagues here are amazing. We're always having a laugh and the teachers help me keep up with fashion and technology trends … I mean, who knew about UberEats?"