Contemplations from Kim
By Kim Wargo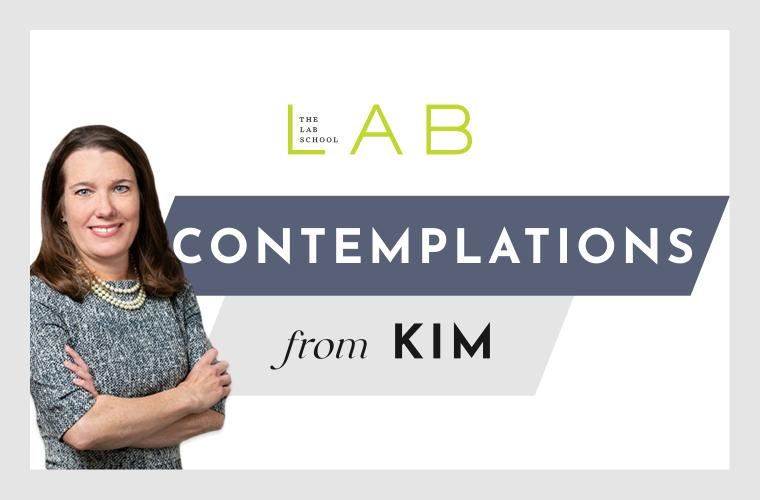 In our full faculty/staff meeting this week, I ended my presentation by acknowledging the time it has taken me personally to process the reality and implications of the mass shooting of Black Americans at a grocery store in Buffalo by an avowed white supremacist, and the mass shooting of a Taiwanese church congregation in Laguna Woods, California, described by law enforcement as a politically motivated hate crime.
These events have prompted me to think about how our community stands up for our students, faculty, staff, and families of color.  These types of hate-based incidents underscore the degree to which our efforts to teach and foster anti-racism are so incredibly important.  
We are not, at Lab, immune from the forces of hate that are so readily on display in the world around us.  We have grappled with our own incidents of the use of racist language or symbols, and we continue to strive to promote a message of accountability, understanding, and learning as we work with our students.  
Messages of hate are so prolific that it can feel almost impossible to push back against them.  Yet, the act of stating our values and standing against racism and hate has never been more important.  
I believe that we must commit – together – to supporting, affirming, and empowering our students and community members to speak out and act boldly in the face of racism. I believe that we must commit – together – to ensuring the safety and well-being of our community members who are from groups historically marginalized in our society.
I believe that we must be fervent and single-minded in our quest to become a place where each person in this community can believe the mantra that "no one belongs here more than you."
As a historian, I believe that we must remain committed to teaching history - honestly, factually, and unapologetically.  We study history to understand our present.  We study history to participate in building a better future.  We study history to learn how to see the world through lenses outside of our own.  We study history to see ourselves.
We are committed to doing this work together, knowing that our efforts will be imperfect and will require us to regroup, to make adjustments, and to learn from our mistakes.  
I am thankful to do this work together in a community that is committed to the mission of empowering our students "to advocate for themselves as they become engaged and compassionate members of a global society."
I ended our faculty meeting by sharing a video of a personal hero, Maya Angelou, reading her inspiring poem, "Still I Rise."  Today, I end these musings by sharing that performance with you.
---
Click here to listen to an audio recording of this months column.