Contemplations from Kim: A Commencement
By Kim Wargo, Head of School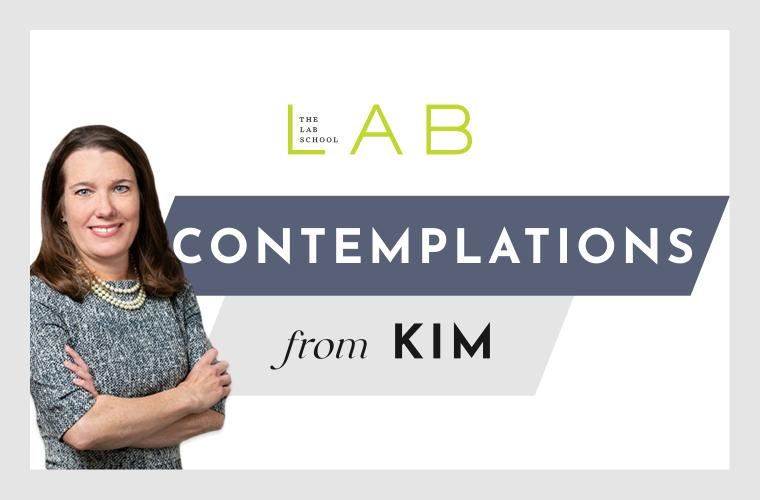 Click here to listen to an audio recording of this month's column. 
Click here to view a slideshow of images from our Commencement on June 17, 2022.
---
A Commencement

I have worked in many different schools around the country, and I have never had the privilege of being part of a more impactful ceremony than the Commencement exercises at Lab.

For any school, graduation is the culminating event. It represents not only the hard work of a particular academic year, but the collective effort of the entire community – teachers, staff members, families, and students – to send out into the world a group of young people who are prepared to make their marks.

For our graduates and their families, this day symbolizes the perseverance and dedication required to overcome challenges that may have, at times, seemed insurmountable. It is, in the truest sense of the word, a commencement – a new beginning, as our newest alumni take what they have learned at Lab into new horizons and new opportunities.

Therefore, it is truly my pleasure to share with all of you a bit of what we experienced at Lab on June 17, 2022 and throughout the last 12 years with these amazing students.

If you ask anyone at Lab, they will tell you that the class of 2022 – collectively and individually – is brilliant! They are resilient, creative, funny, and kind.

I feel fortunate, indeed, to have traveled a few years of their Lab journeys with them. And what a journey these past few years has been!

In the last two years, our recent graduates have navigated complex societal challenges, while also traveling through their own personal journeys to figure out what they want when they leave the gates of Lab as alumni. Through all of this, they have been leaders in our community. They have inspired us to do better. They have supported their classmates and appreciated their teachers.

Throughout this Spring, I met with our seniors in small groups. I asked them to tell me what they most appreciated about Lab, what they hoped would never change.

"Make sure you keep the student-faculty play! It brings the community together," said one.

I heard over and over again their appreciation for their classmates – the closeness they share as a group, and their respect for each member's individuality.

They praised the School for being student-driven: "I love that there is always an opportunity for students to create a new club, or bring forward a new idea."

Most of all, I heard gratitude for their teachers – specifically for their flexibility and understanding, for their commitment to the success of every student, and for their willingness to go the extra mile.

Said one senior, "Teachers at Lab actually listen to students."

Said another, "At Lab you gain the confidence to ask teachers for help. They will never look down on you, or tell you that you can't ask a question."
 
They loved that their teachers bring out the best in each student. "At Lab, you can't sit in the corner and not talk. You can't hide at Lab."

And they praised their teachers for the passion they bring to the classroom. "Lab teachers keep it real."

I also asked them to tell me what they would change about Lab if I handed them a magic wand.

In addition to some nitty gritty items about MyLab and Chromebooks, more electives and sports opportunities, they asked us not to shy away from examining challenging topics – not to be afraid of digging into topics that are "raggedy."

They challenged us to make space for every student to be their authentic self and to truly celebrate the diversity and spirt of our community.

In my conversations with our seniors, I asked them to tell me about the class of 2022 as a group. What should we know?

Here's what I heard:
"We are very close."
"We love each other."
"We feel connected, no matter when we joined Lab."
"We are supportive of each other, even if we aren't best friends."
"Nobody here is trying to be cool. We want our underclassmen peers to know that High School is just embarrassing, and the faster you accept this, the better off you'll be."
"The loss of Mr. Aaron made us closer, and it made us activists. It was the hardest thing we went through at Lab, and it made us want to change the world."

I have no doubt that they will follow Mr. Aaron's example and change the world.

Lab School will be cheering them on. We will be celebrating their successes, and commiserating in their defeats, knowing – all the time – that they have the resilience and perseverance to pick themselves up and move forward with new learning and determination.

As you may know, it is a hallmark of our graduation ceremony that our Head of High School, Lisa McMahon, speaks about each graduate as they receive their diploma, sharing insights about their individual passions, achievements, and directions for the future. This is truly the most moving part of our ceremony, and it is my privilege to share Ms. McMahon's tributes (only slightly edited for clarity in this format) HERE.  

We know that the class of 2022 will not be strangers as they forge a path to what we also know will be an amazing and bright future. We are grateful to each of our new alumni and their families for sharing part of their journey with us.

I will close with the exhortation of our Commencement speaker, Dr. Joyce Ladner to our graduates, as I think it serves as a fitting and inspiring benediction to the 2021-22 school year:
 
"You must find your cause, your mission because your lives will be greatly enriched by believing in something outside yourself, and by helping others. You will be the stewards of government, the environment, the economy, education. Maybe one of you will return here as the Head of Lab School. (Oh, Dr. Ladner, I hope so!)

"My generation is bequeathing you a world that is in great turmoil and conflict. For that, I am sorry. But you will meet the challenge because you must. Good luck and God bless you."

I wish each of you a restful and restorative summer. Thank you for being part of The Lab School of Washington.