Contemplations from Kim: The Important Work of Building Community
By Kim Wargo, Head of School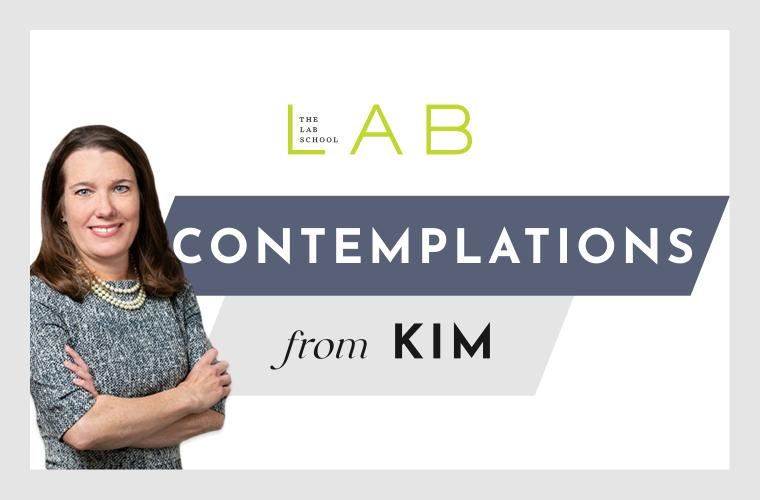 Click here to listen to an audio recording of this month's column. 
---
Dear Lab Families,
It was wonderful to see so many of you at our happy hour yesterday evening. I know that many others would have liked to join us, but were attending other children's back to school nights, dealing with the after school shuffle, or just trapped by the unexpected presidential motorcade on your way home or back to campus.
 
Please know that this will be one of many opportunities for us to gather as a community this year.
As you know from my last communication, we are continuing to focus on our theme of "belonging" this year. One thing I know to be true – you cannot feel that you belong if you do not feel connected. Therefore, this year we are committed to a renewed effort to offer opportunities for our parent and family community to connect.
We've learned many things through these last two years of COVID. We have learned the value (by its absence) of connecting in person. We need to see each other in 3-D. We need to hear the chorus of voices in conversation in real time. These are critical components for each of us to feel seen and known and appreciated. 
We also know that our shift to Zoom for many events over the last two-plus years has offered new opportunities for greater inclusion and attendance for all members of our community. 
Therefore, we'll continue to offer opportunities for parents to connect with the school on Zoom, while we also focus on returning to in-person community-building events. 
We will try to maximize what's good about Zoom – the ability to gather many people to deliver important information in a convenient format – while also prioritizing being together in person.
In that spirit, we've made some changes to our Back-to-School format. Next week, we will kick off our Back-to-School parent nights, with a Zoom event: Lab Connect. On Tuesday, 9/13, we'll gather on Zoom (link is posted in ParentSquare) at 6pm. All parents and guardians are encouraged to attend!. 
After a few opening remarks from me, you will join break-out groups by division to hear from your division heads about the year. There will be an opportunity to ask questions about the program and plans for the year. 
This Lab Connect event will allow us to get some of those "nuts and bolts" items out of the way, so that our on-campus Back to School Nights later in the month can focus on the important opportunity to meet your children's teachers in person and see the teaching and learning environments that your children experience every day.
In addition to our Back to School parent events, I hope to build on the wonderfully positive vibe of last night's parent gathering. I will host a series of on-campus parent coffees and cocktail hours throughout the year. These informal gatherings will give us the opportunity to continue to get to know each other in person, and each one will include an open-ended time for Q & A. I hope you'll join me at one or all of them throughout the year. (The first will be a Coffee on October 7th on the Reservoir Campus at 8:45am).
I also look forward to joining the first PALS Open Meeting on September 20th (which will take place on Zoom – invitation to follow). At the meeting, I'll introduce you to some of our new senior administrators, share some information about what we're focusing on this year, and provide some thoughts about the "state of the school" from the perspective of the singularly important work of attracting and retaining faculty in this challenging climate.
I hope to see each and every one of you at one or more or all of these upcoming events. I'm eager to do the inspiring work of building our community together.
Best,
 
Kim Wargo
Head of School