Contemplations from Kim: A Monthly Column - August 2022
By Kim Wargo, Head of School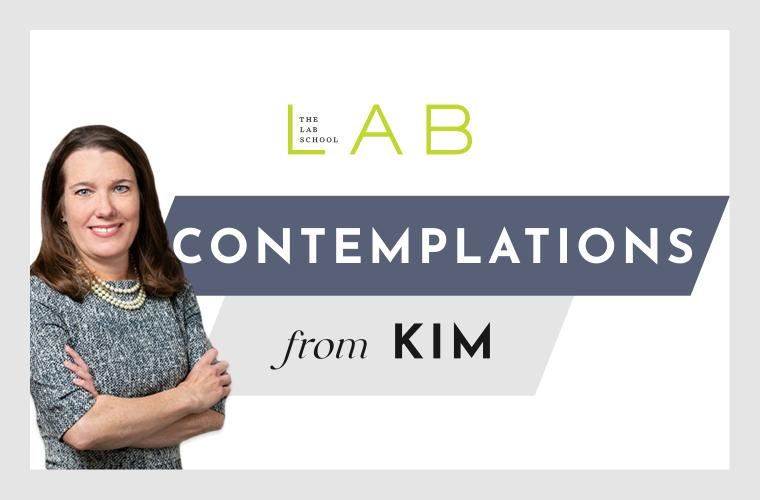 Click here to listen to an audio recording of this month's column. 
---
Dear Lab School Families,
I hope this communication finds you well – having enjoyed some time of rest and rejuvenation with family and friends this summer. We are very much looking forward to seeing you and your children on campus next week!
This week, we have been busy on campus welcoming our new and returning faculty and staff and eagerly preparing for our students' arrival.
When we gathered for our first all school meeting, I shared with our team that the theme of my summer was family transitions. My husband and I are very grateful that our daughter has relocated to DC from rural Massachusetts, where she had been teaching in a boarding school for the last two years. She will be teaching in a local independent school in the city, and we are thrilled to have her close by and continuing in the "family business."
And, my family made another monumental transition. My husband's parents – in their late 80s – have moved to the city so that we can be of greater support to them. As an only child, this has been a huge relief for my husband and our family, and so far, the transition has been smooth!
At our opening meeting, I shared with our faculty and staff that there is a lot of "new" at Lab this year. We are thrilled to welcome more than 80 new students, for a total of 380 students on our bricks and mortar campus and 13 in our virtual classrooms in the Global Division. We also have a wonderful group of new teachers and staff members joining our team, and we look forward to sharing their bios with you in the next few weeks.
We have a new divisional structure at Lab. Our Lower School – housed on the Foxhall campus – encompasses the equivalent of 1st-4th grades, and is ably led by our new Lower School Head, Elizabeth Eastwick, who joined our team on July 1 this summer. Our Middle School – encompassing 5th-8th grades – is happily ensconced in the Middle School building on the Reservoir campus. Our new Head of Middle School, Melissa Wood (our former Director of Speech, Language and Literacy), has been working hard with her team all summer to create an integrated program that meets the needs of our middle years students. We will transition to using the term "Upper School" for our high school program, which will continue to be led by Lisa McMahon. Our Global Division serves students from around the country and the world, and is led by Amy Oswalt, former head of the elementary program.
This year, we will continue our focus on "belonging." We have added the position of Director of Wellness and Social-Emotional Learning, and we are excited to welcome Dr. Natosha Speight into this role. Natosha will work closely with Dr. Anthony Perry, Lab's Director of Diversity, Equity, Inclusion, and Belonging, as part of our "belonging team," which includes our divisional social workers and Deans of Student Life in the Middle and Upper Schools. We will undertake a comprehensive review of our approach to supporting student well-being, and look forward to partnering with parents in this essential work of providing the most optimal experience for our students.
Even with many new colleagues, new roles, and new divisions, I want to remind us of what isn't new about Lab. And that is our singular focus on our mission of serving students with language-based learning differences. Our goal – each and every day – is to empower our students with ownership of their strengths, and the belief that these strengths will enable them to overcome their challenges. Our strengths-based model emphasizes the creativity and uniqueness that goes hand-in-hand with having brains that learn differently. We want students to know who they are as learners, to be proud of how their brains work, and to use those strengths to tackle the barriers to traditional academic learning. We do this through an enriched arts-integrated program that prioritizes hands-on learning.
Even as we remain firmly committed to our mission, we have many initiatives underway for the year. Our Division Heads will be sharing specific information with families about how their divisions will focus on belonging, and on initiatives such as a new curricular framework for math in the Lower and Middle Schools, a renewed commitment to the SEL framework of Responsive Classroom, a continued examination of our athletics program and offerings, and our ongoing efforts to align our programs and practices across all divisions of the School.
We look forward to welcoming families back to campus for many in-person events this fall, and we will continue to use Zoom for informational meetings in order to increase access for all parents and guardians.
PALS will host an opening day coffee for parents on both campuses on September 1st (the first day of classes), and we invite all parents and guardians to attend a Welcome Back Cocktail Party on September 8 at the Reservoir Campus. Our Back-to-School Parent Evenings will return to in-person campus events, and we will also provide "Lab Connect" events for each division to meet your divisional leaders on Zoom.
In short, we are looking forward to a year of focusing on connection, on building relationships, and on recommitting to our work of ensuring that each and every member of this community can earnestly feel the truth of the statement that at Lab, "No one belongs here more than you."
I look forward to seeing you next week, and to all that is ahead at Lab.
With warmest regards,
Kim Wargo
Head of School