Introducing: Contemplations from Kim — A Monthly Column
Listen to an audio recording of this month's column below!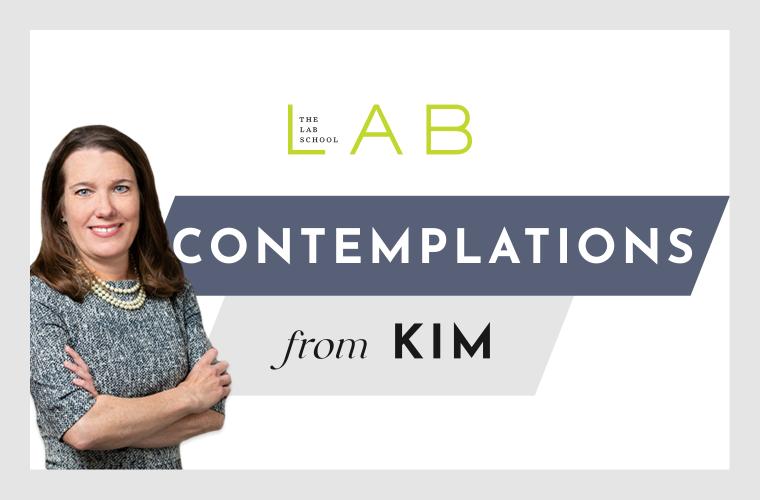 On Being Back and Belonging
On the evening of the first day of school, many parents gathered for a "welcome back" Zoom meeting.  I shared my top three words to describe the mindsets and emotions that permeated our first day of being back on campus full-force:  Joyful; enthusiastic; determined.
And, indeed, those first days back were all of these things.  I had teachers and students spontaneously sharing with me how good it felt to be back all together on campus.
By the time of our first board meeting on September 24 and our first all school faculty/staff meeting on September 29, I had to add a few more words in order to be honest about the mindsets and emotions that permeated campus two or three weeks into the school year:  exhaustion; reality; relearning.
The truth is we have all been experiencing a bit of a wake-up call about the heavy lift of returning to full-time in-person teaching and learning.  At some of my small group parent meet and greets, you've shared with me that you are experiencing this through your children and in your own professional and personal lives – it takes a LOT of energy to be with lots of people for 6 or 7 hours a day.  
There is a ton of teaching and learning going on in our buildings and grounds at Foxhall and Reservoir.  And while much of it falls under the umbrella of "academic skills and concepts," we're also doing a good bit of relearning how to be together.
Some of our kids' "group dynamics muscles" have atrophied a bit.  (To be perfectly fair, some of those same muscles are also stiff in adults!)  While it is affirming to be in community with each other, it is also exhausting.  I want to give us permission to accept that all of this togetherness is going to take some practice!
One thing that is helping us find the extra energy to do this reteaching and relearning is our theme of belonging.  When kids are having difficulty communicating their feelings to peers or teachers, or remembering how to share on the playground, or expressing big thoughts and emotions, starting from a shared commitment that "no one belongs here more than you" puts us on solid ground.
The other thing we are focused on is finding ways to give our teachers time – to get to know their students as individuals, to work together as colleagues, and to recharge their individual and collective batteries.
You only need to engage with "teacher Twitter" for a few minutes to see that the feelings of exhaustion and overwhelm are common across our profession.  As an industry, we saw large numbers of teachers choosing to leave the field or retire at the end of the 2020-21 school year.
We are fortunate at Lab to have a team of committed, passionate educators who truly love what they do.  AND, I know that our teachers are the most vital part of what makes Lab the school that it is.  If the pandemic has taught us anything, it is that education is fundamentally a people-centered endeavor.  Buildings don't make schools – teachers do.
We are thankful to PALS for the many ways they have worked to express gratitude to our teachers over these last 18 months.  (The appreciation breakfast this week was just the latest wonderful expression of that gratitude!)
We are also working as an administrative team to find ways to give the gift of time to our teachers – time to prioritize knowing their kids and time to invest in their own well-being (this is that tried and true adage of putting your own oxygen mask on first!).
In a few weeks, we are participating in a "faculty resilience survey" through the National Association of Independent Schools.  We are also going to administer the Independent School Health Check to our junior high and high school students.  (More information to come on this important wellness tool soon!)
These surveys will give us real data to make needed adjustments in ways that are meaningful to our teachers and that will benefit our students.  As we gather this information, I am encouraging our division heads to act.  In the next several months, you will likely hear about initiatives or tweaks to prioritize the well-being of our students and educators.  
We all have a part to play in this work of creating and sustaining a school where every member of our community knows that they belong and believes that they are important.  Thank you for your ongoing support in making Lab the place where we all belong.