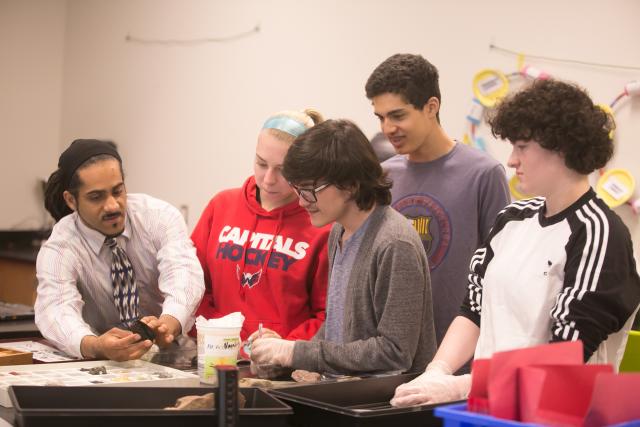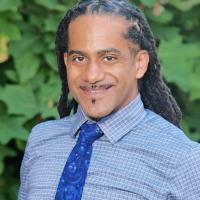 Jonathan Alexis
Junior High and High School Science Teacher
A Conversation with Science Teacher Jonathan Alexis
Learn why Junior High and High School Science Teacher Jonathan Alexis reveres Bill Nye, the "Science Guy."

What has been one of your biggest dreams?
My dream is to become the first African-American Bill Nye — "the Science Guy." I remember summers as a kid at hands-on science camps being incredibly meaningful. I always loved science, and Bill Nye was — still is — the best at engaging kids in learning and loving science.

How did you get into teaching?
Even in college and grad school at Goucher, I knew I needed to find a community to share my passion. I paired my studies in science with field work in schools as a teacher's aide, and since I found that working in the area's public schools was restricting, I got into education through informal education working in the educational departments at the National Aquarium in Baltimore and the Maryland Science Center. I loved working with the school groups on interactive projects, and seeing the kids light up. We might do a project around gel electrophoresis to show simulated bands of DNA, for example, and the kids would feel so empowered. You give them the tools and the trust, and they start to direct their own education!

What experiences did you bring to Lab?
Before starting at Lab almost in 2016, I taught at various schools including one secondary school based on the Montessori method. There, the classes were thematic and I felt as if I served less as a leader and more as a facilitator laying out parameters, allowing the kids to follow their own interests and, on some levels, lead their own learning. Now at Lab, I am applying the best facets of my past experiences as a teacher and learning to meet my students where they are — each a different kind of learner — in as authentic a way as possible.

Are you involved in activities outside the classroom?
I help run the Tide Turners Environmental Conservation Club as well as the Let's Represent! Male Affinity Groups Club, which enriches students' cultural competencies as they examine issues of diversity, equity, and inclusion in gaming culture and the society at-large.

Is there something special about working at Lab that stands out to you?
In my endeavor to enhance the differentiation of my instruction, I am truly grateful that Speech and Language, Occupational Therapy, Psychology, and Art specialists are only an email or phone call away when I am stumped on ideas and strategies to apply to my instruction.
At Lab, not only am I surrounded by creative, like-minded thinkers, but I prize the freedom and license I am afforded to try things out, to use a variety of teaching methods that allow me to present the material in meaningful ways that get the kids excited to ask more questions and to push themselves and their peers for more knowledge.