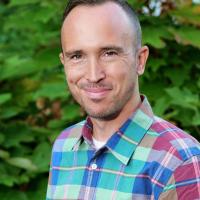 Adam Toal
English Teacher and Teaching Artist –Video
Exploring the What, Where, When, and How on Film
English Teacher and Teaching Artist –Video Adam Toal wanted to spice things up in his Junior High Reading class.
Instead of assessing his students' comprehension and analytical thinking of the short stories they were reading through traditional means like writing or discussions, he wheeled in some video cameras. Students retold the short stories by making short films, visually and creatively reflecting the subtleties of character, setting, conflict, and story arc.
This year, in his new Videography class, he has upped the ante, launching film projects that not only excite and challenge his students but also teach the basics and nuances of filmmaking—from storyboarding and sequencing to reshooting and editing.
"I was wowed by the kids' creativity, but even more, impressed by their collaboration, organization, and attention to detail," says Mr. Toal who majored in videography in college.
In groups or individually, his students have created, among other projects, music videos, a video about an inanimate object which was all about empathy, and horror story videos based on short stories—think creepy music, side glances, reluctant footsteps. Along the way, they have learned myriad editing techniques like the use of voice overs, dissolves and transitions, slow motion, filters, and cropping to better tell their stories and enhance the tone and mood of their films.
One project emerged from frustration. In order to teach games like Settlers of Catan, Risk, and Pandemic during Junior High's Friday Game Club, Mr. Toal needed to know how to play them himself. He headed to YouTube. He watched one and two, then four and five videos, most of which were flashy and fun, but failed to explain the basic directions and parameters of each game. Fast forward to his Videography class. The assignment: make an instructional video that explains the objectives, rules, and sequential steps of a game like Life, Chess, or Apples to Apples.
"And our new Videography Studio—complete with green screen, new cameras, computers, and editing software—has definitely been a game changer."
"My students have really come to understand the visual medium of telling a story through film. They consider their audience, the importance of sequence and verisimilitude, and love how some of the editing techniques can change a scene from interesting to exhilarating, mild to hair-raising," says Mr. Toal who insists he's having as much if not more fun than his students in the video-making process. "The more ways our students can express themselves—whether through writing, speaking, or filmmaking—the bigger their worlds become."