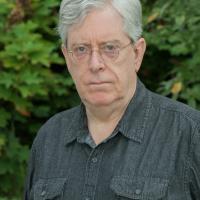 Shaun Miskell
Director of Performing Arts, Teaching Artist
A Standing Ovation for Our New Theater
The Shaun Miskell Theater exceeds expectations and sparks great excitement around all things performance.
Already, after only a few months since its grand opening, it's hard to believe that the Shaun Miskell Theatre is still so new … everyone just slipped in there effortlessly.
"The moment I walked on stage with the High School students for the first time, I could instinctively feel them upping their game. Not that they didn't give it their best in the Kelly Theater, but in the new theater, they sensed its size, its potential, and they just got bigger," says the eponymous Director of Performing Arts, Teaching Artist Shaun Miskell. "Our first performance — Much Ado About Nothing — was an adventure. The students looked comfortable and in control negotiating the new space. My favorite part was getting to watch the cast take their well-earned bows in their first real curtain call. They all looked like seasoned pros!"
No longer need we imagine a proscenium stage where music, sounds, and voices are nuanced from a fully enclosed control room; where a catwalk allows students to tailor the ultra-modern lighting system from above; where a costume space exists not only for storage but for creation — and with an electronic garment conveyer no less; and where, adjacent to the theater, there is a new, bigger music room and an innovative set design shop … because we can now see it in action.
As of the end of 2019, each division performed at least one show in the new space, expanding possibilities for staging, stage craft, lighting, sound, and of course, acting.
"Intermediate Theater students were thrilled to perform in the new theater! As one second year actor reported, 'It's really exciting that there's space for everyone. We're also encouraged to project our voices all the way to back row.' During our tech rehearsal when the curtains opened and students felt the lights upon them, they knew it was the real deal!" says Intermediate Teaching Artist, Performing Arts Amal Saade who with her students wrote the script for their first show, Beneath the Mask.
Elementary and Junior High Teaching Artist, Performing Arts Sally Kiernan adds, "The new theatre has definitely been a game changer. The kids are in awe of the space and they have brought their performances to a new level."
Intermediate Teaching Artist, Music Susan Carter, whose first show, in December, The Season of Hope explored the relationship between the Winter Solstice and ancient holiday celebrations across the globe, comments that "the beautiful lighting on the new stage" enhanced her students' musical performances. And Theater Technical Director, Set Design, Tech Theater Joseph Musumeci, who started at Lab this year, says, "For some of my students, focusing on the design aspects of a show like building sets, hanging lights, and overseeing audio engineering are new experiences. It's been rewarding to see the face of a kid who has tried something new … built something from scratch for the first time."
"When we went in to the theater for the first time, I could see my students' connection to the art form, the content, the collaboration — everything — heighten," says Ms. Saade. "How lucky are we — our whole Lab community!"
A new decade, a new theater. Who knows what surprises lie behind the many layers of curtains on the new Shaun Miskell Theater Stage?
Black Box Transforms into White Movement Room
Since 2000, The Kelly Theater served nobly as Lab's dramatic heart. Even without a stage, the black box theater was where hundreds of songs were sung, scenes acted out, full-fledged shows performed, and ebullient audiences cheered as their Lab loved ones blossomed before their eyes. Now that the new Shaun Miskell Theater has opened in all its glory, the black Kelly Theater has been transfigured into the white Movement Room.
Hardly recognizable, the newly metamorphosed space is being used and appreciated in old, new, and inspired ways. "The Movement Room has been a pleasant surprise. It's a great rehearsal spot — bright, well-lit, and inviting," says Ms. Saade. "There's lots of room for games and activities as well as for more movement and more choreography. The space has been the perfect spot of improv — small group work has definitely been enhanced."