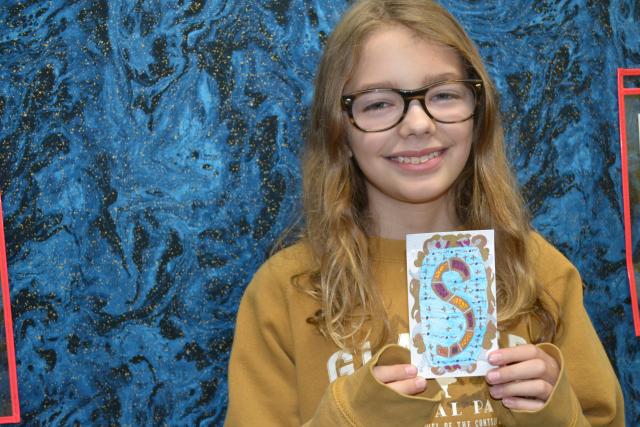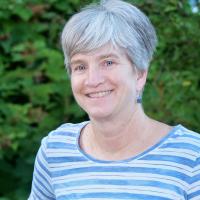 Amy Young
Intermediate Teaching Artist -Writing
Word Play
Imaginations are soaring in Intermediate's Authors and Illustrators class.
On a crisp morning back in the autumn, Intermediate Teaching Artist - Writing Amy Young took the students in her Authors and Illustrators class into the garden. There, they observed. They noticed the texture of the bark on a nearby oak, the distance between the leaves on a zucchini plant, and the way the wind patterned the ground with leaves, twigs, and errant nuggets of soil. Then, they brainstormed a mythology for the garden complete with characters, back stories, and legends. Using their collective mythology, students wrote their own myths. To illustrate them, they made marginalia, drawing little pictures and scenes in the margins of their stories as well as elaborate illuminated manuscript initials — the enlarged and decorated capital letter, the first letter of the beginning of a text. Once the illustrated myths were complete, the class created a special, ancient-looking container in which to bury the stories in the garden. Come spring, the budding authors and illustrators will dig up the box of stories and enjoy a reading under a warm sky.
This is just one project in Authors and Illustrators, a daily class offered this year as an Art, rebranded from the prior twice-weekly Writer's Studio. "We reimagined the class to emphasize creative writing with art-infused projects, allowing students the time and space to express themselves on the written page," says Ms. Young.
"Sometimes the art projects are a way to help the kids come at their writing from another, less daunting angle. With art, there's no proverbial blank, wordless page staring back at you. The images inform the imagination and vice versa. Then the words, the rhymes, and the plot twists emerge with more ease and fun."
Ms. Young, a poet in her own right who worked in the rare books bindery while an undergrad at Brown University, brings her own passions to the class. One day they might write clarihews — four-line poems about personalities — while on another day they make "marbled paper" using shaving cream and food dye to create the ocean surface while writing descriptive prose. They design maps of gratitude, naming places after people and animals who are important to them and writing about them, and they use some of MacArthur Grantee and Comic Artist Lynda Barry's methods of employing drawing and memory to stimulate writing, then exploring how "images" are transferred from one person to another. In February, they embarked on a novel-writing challenge.
"It's wonderful to see the kids get excited about the stories and poems they're writing and then enhance those words with visual art. The class offers them a relaxed place to think and explore creatively without the pressures of standard reading and writing goals. When they enter my classroom, they know that this is where they can play with words and use their strengths to discover what they have to offer as writers and thinkers."
In spring 2020, Amy Young who won 2020 Bechtel Prize for an innovative classroom project — a writing project that combines myth-making and art — from Teachers & Writers Magazine. Read all about it here.